Hosmer, Moustakas locked in at plate
Hosmer, Moustakas locked in at plate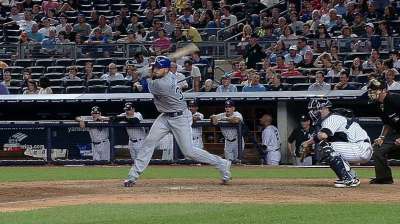 NEW YORK -- While the Royals managed just six hits as a team in Wednesday night's 8-1 loss to the Yankees, two of them came off the bat of Eric Hosmer, marking his eighth multihit performance in his past 12 games.
The Royals first baseman has been on a tear of late, hitting .444 (20-for-45) with five home runs and 11 RBIs during the 12-game stretch.
Hosmer has seen a gradual improvement at the plate each month this season after hitting .250 and failing to record a home run in April. He followed with a .269 average and one homer in May, posted a .303 mark with six long balls in June and is hitting .378 with a pair of homers in July, entering play Thursday.
"I'm not really doing anything different right now," Hosmer said of the recent surge. "I'm just trying to stay consistent with the work I'm doing. [Hitting coaches George Brett and Pedro Grifol] and I have all created a routine that we've been getting after now for about three, four weeks. I just want to stay consistent with that work and try to stay aggressive at the plate."
At the other corner-infield position, third baseman Mike Moustakas has started to pick up the pace, as well. Despite his 0-for-4 performance on Wednesday night, Moustakas is still hitting .303 over his past 19 games, raising his season average 30 points during that span from .183 to .213 entering play on Thursday.
"It's immensely important," manager Ned Yost said on what it means to have both Hosmer and Moustakas coming around offensively. "Coming into this season, we knew that, in order for us to be competitive, we were going to have to produce at our corner positions -- first, third, left and right. Right now, we're starting to do that."
Albeit a small sample size, the Royals have gone 7-5 while averaging 5.1 runs per game during Hosmer's recent 12-game burst. In the 76 games prior, Kansas City had averaged just 3.9 runs per contest.
"Our offensive production has picked up here, largely because of those two guys," Yost said. "They're an important component and the key to our offense. We know that we have offense at short in [Alcides] Escobar and behind the plate with [Salvador] Perez, and we're covered in center field with [Jarrod] Dyson and [Lorenzo] Cain.
"But the mainstay of our offense, I think, has to be those four corner positions, and it starts with those two."
Paul Casella is a reporter for MLB.com. Follow him on Twitter @paul_casella. This story was not subject to the approval of Major League Baseball or its clubs.