Cobb feels good after bullpen session
Cobb feels good after bullpen session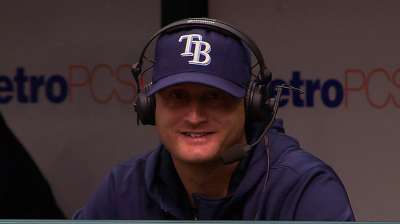 ST. PETERSBURG -- Alex Cobb threw 47 pitches during a bullpen session on Thursday.
"Everything went well," said Cobb, who is recovering from a concussion he suffered after getting hit on the right side of his head in a June 15 game against Kansas City. "[My] arm is getting stronger and stronger, I think. And I'm getting more game-ready with the arm."
Cobb will throw another bullpen session Sunday at Tropicana Field.
"It's still up in the air whether it will be another bullpen [session] or a live BP," Cobb said. "Don't know yet."
In addition to throwing, Cobb has taken some fielding practice, which included having line drives hit toward him while he stood behind a screen.
"That went well," Cobb said.
Cobb took another concussion test Wednesday and said he did well. Major League Baseball and the Players Association must sign off on the results of his tests before he can return.
"I definitely think early August is realistic," Cobb said when asked about when he might return. "Late July might be a little bit of a push, but might as well set the goals high. Hopefully, it will happen."
Bill Chastain is a reporter for MLB.com. This story was not subject to the approval of Major League Baseball or its clubs.