Wright on: Knuckler's strong relief powers Sox
Wright on: Knuckler's strong relief powers Sox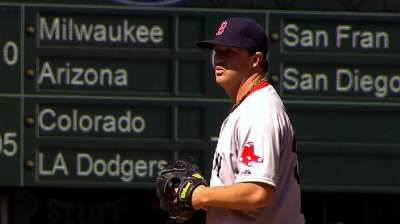 SEATTLE -- Ryan Dempster allowed seven runs over just 3 1/3 frames, but knuckleballer Steven Wright scattered only three hits over 5 2/3 scoreless innings and Daniel Nava hit a go-ahead RBI single in the 10th inning as the Red Sox beat the Mariners, 8-7, on Thursday afternoon.
"That's my goal every time, is just to keep going until they tell me I'm done, and today I was able to do that," said Wright, who picked up his first big league victory. "Next to getting called up, it's definitely up there. First win is exciting."
Nava's soft grounder up the middle in the 10th inning off Tom Wilhelmsen scored pinch-runner Jackie Bradley Jr. from second for the winning run. It was the first hit in six at-bats for Nava, who came to the plate after Wilhelmsen intentionally walked Jacoby Ellsbury.
"He's got a really good fastball, and on the alternate side, he's got a really slow curveball," Nava said. "I was just trying to get on top of something and just go back up the middle."
Seattle got a runner on base in each inning pitched by Wright, but time and again, he left them stranded with his deadly knuckleball.
"They have a couple guys in the lineup that I think fit a knuckleballer well -- some swings that have a little length in them. ... But there was no guarantee that who we brought in would be any different," said manager John Farrell. "And the fact that he kept putting up zeroes, we rode him as long as they could."
Wright credited having Ryan Lavarnway behind the plate.
"I threw to him a lot back down in Pawtucket and he saw when I maybe got a little more antsy and he was able to calm me down," said Wright, who lowered his ERA from 12.27 to 4.82. "It's very comforting for me, especially coming back to the big leagues."
Entering the game, Dempster had posted a 3.33 ERA in his previous eight starts, lasting at least six innings in all but one of them. Thursday's outing was Dempster's shortest since May 23.
With the win, the Red Sox took the series three games to one. Their Major League-leading 19 series wins are one fewer than their total series victories last season. To win the series, Boston twice had to come back from early 5-1 deficits.
"I think, fortunately and unfortunately, we were down early, but that allows plenty of innings to get back and more opportunities to do so," Nava said. "That's how it goes sometimes."
Ellsbury hit his eighth career leadoff home run to welcome Erasmo Ramirez, who was recalled from Triple-A on Thursday, back to the big leagues.
Seattle's Kyle Seager answered with a home run of his own in the second to knot the game. A two-out error by third baseman Brock Holt put runners on the corners, and leadoff hitter Brad Miller hit a double to put Seattle ahead. A single from Endy Chavez brought in two more.
David Ortiz entered the game on a tear against the Mariners, having gone 8-for-10 to that point in the series, with three doubles and two home runs. The slugger's run ended on Thursday, going 0-for-3. Still, Ortiz scored a pair of runs after walking twice to get on base.
The Mariners made it 5-1 in the third on Michael Saunders' single to score Justin Smoak, who got on base with a walk and was advanced by a hit batter.
With two on and two outs in the fourth, Holt, Jose Iglesias and Ellsbury hit a string of singles to cut Seattle's lead to 5-4. Ortiz drew a walk to start the inning and took second when Mike Carp was hit by a pitch.
Seattle responded with a hit parade of its own, sandwiching four singles around a strikeout of Raul Ibanez to score two, extending its lead to 7-4 in the fourth. But that was all they would get, as Wright shut the Mariners down to earn his first Major League win.
"A knuckleballer isn't something you see every day," Seager said. "He was real effective and throwing it for strikes. It's a pretty unpredictable pitch and hard to time it up. He definitely throws it harder than some guys I'd faced in the past."
Boston tied the game in the fifth, knocking Ramirez from the game and nearly batting around. Dustin Pedroia led things off with a single and was advanced when Ortiz recorded his second walk. Jonny Gomes loaded the bases with a single and Carp hit a sacrifice fly to pull within two. Holt made it a one-run game with a single, and Iglesias tied it up with a single.
"The way they grind through at-bats, they've got two of the greatest examples in the game in Pedroia and Ortiz," Seattle manager Eric Wedge said. "They're MVPs and All-Stars and have been doing it for years. They take it to another level. And Ellsbury is about as hot as anybody can be. And all those other guys, they watch that day-in and day-out, too."
Koji Uehara picked up the save for Boston with a clean inning just an hour after it was announced that he would not be the final American League representative in the All-Star Game.
As the Red Sox packed for their final leg of a 10-game West Coast road trip, Wright was amazed at the Sox's grit.
"It was fun to watch these guys battle each and every inning, and being able to come out with a win is huge," said Wright.
Jacob Thorpe is an associate reporter for MLB.com. This story was not subject to the approval of Major League Baseball or its clubs.