Lack of deep starts proving taxing to bullpen
Lack of deep starts proving taxing to bullpen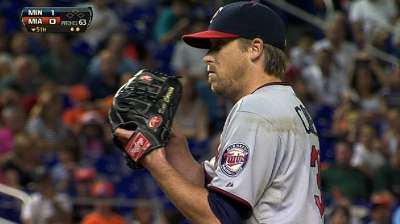 ST. PETERSBURG -- The Twins had already been in need of a few lengthy starts heading into the All-Star break. Wednesday night's bullpen-draining 13-inning marathon only exacerbated the situation.
Minnesota relievers combined to allow only one run over 7 1/3 innings in the 4-3 loss to the Rays, an impressive figure that showcased two trends: They're pitching well, but they're pitching too much.
"We really need to get into the sixth or seventh inning with our starter," manager Ron Gardenhire said Wednesday night. "I know they're trying, but we keep not making it through the sixth, and it's just too many innings."
Minnesota hasn't had a seven-inning start since Samuel Deduno tossed seven innings against the Royals on June 27. In 88 games, the Twins have had a starter get through the sixth 40 times. They've had 12 starts between seven and eight innings, one full eight-inning start (by Kevin Correia, on April 28) and no complete games.
The club's starters have worked a Major League-low 477 2/3 innings, pitching to a 5.35 ERA that also ranks last in the Majors. The bullpen, conversely, entered Thursday's series finale at Tropicana Field with a collective 3.20 ERA, ninth best in the Majors and fifth in the American League, while pitching 306 2/3 innings in 88 games, third most in the AL and seventh in the Majors.
Adam Berry is a reporter for MLB.com. Follow him on Twitter at @adamdberry. This story was not subject to the approval of Major League Baseball or its clubs.