Phegley's slam leads White Sox before benches clear
Phegley's slam leads White Sox before benches clear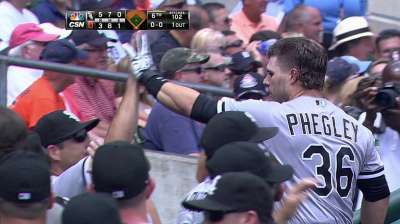 DETROIT -- Chris Sale got run support, in an occurrence seemingly as frequent as Halley's Comet zipping through the sky during the 2013 White Sox season.
Josh Phegley got to Anibal Sanchez, which has almost become an expected result in the rookie catcher's first week in the Majors.
And with an intensity not exactly indicative of a team with a 36-53 record, manager Robin Ventura's crew left Comerica Park with a series victory over the American League Central-leading Tigers after Thursday afternoon's 6-3 win.
That intensity wasn't limited to Chicago's pitching, hitting and fielding.
In the sixth inning, with two outs and the White Sox leading 5-3 thanks to Phegley's first career grand slam earlier in the inning, Tigers reliever Luke Putkonen threw behind the back side of Alexei Ramirez on the first pitch of his at-bat. The pitch appeared to be retaliation for a high-and-tight fastball thrown by Sale to Prince Fielder in the fifth that came immediately after Miguel Cabrera lifted a 3-2 offering to right field for his 30th homer to give Detroit a 3-1 lead.
Ramirez pointed at Putkonen in anger and started moving toward the mound as both benches and bullpens emptied. Detroit catcher Brayan Pena stepped between Ramirez and Putkonen, and Cabrera also came in from his third-base spot to slow down the White Sox shortstop. The White Sox made a point of keeping Sale out of the melee and Ramirez under control.
Plenty of words were exchanged, but no punches were thrown. Detroit manager Jim Leyland was thrown out along with Putkonen. During postgame interviews, Sale took responsibility for overthrowing on the pitch to Fielder -- what he said was supposed to be a fastball outside -- swearing there was no intent, though he understood how the pitch looked.
This same appearance of intent from Putkonen caused Ramirez to react as he did.
"I reacted like any other player would have," said Ramirez through translator and White Sox coach Lino Diaz. "That wasn't a pitch that was intended to go in the zone. That pitch was intended to hurt me. If you are hurting me, you are hurting my family. You are hurting my kids. That's something I have to react to."
"Sailor, just frustration, overthrows it," Ventura said of Sale's pitch. "Then you see what happens, and it turns into a mess."
Ramirez, who was not ejected, finished the at-bat by hitting a single to left. But he left the game after stopping at first due to cramping in his right leg.
Phegley's legend continued to grow with his one swing of the bat in the sixth. The catching prospect just missed on two pitches earlier in the game against Sanchez, flying out to the left-field wall in the second and lifting another deep fly out in the fourth. But in the sixth, Phegley lofted a 3-2 offering to left to give him three homers and eight RBIs in his first five Major League games.
For the affable native of Terre Haute, Ind., it was his only hit of the series, but certainly an important one.
"Basically I hit the same ball as I did the first two at-bats, just a little better and it made it over the wall," said Phegley, who became the first White Sox player with three homers in his first five games since Magglio Ordonez in 1997. "I really needed that for the series, and to get going again offensively, especially for Sale. We needed to get him a win."
"It's probably the location with the pitch. If I don't miss, it's a popup somewhere," Sanchez said. "But he homered. The more important thing is this is my second start back from the DL. Everything is there, so I just have to work a little bit more with my command."
Sale had to be stunned watching Phegley's fly ball clear the fence, considering he received only nine total runs of support in his last seven starts. He took the losses in six of those starts with one no-decision. The two-time All-Star had not won since May 17 in Anaheim, but he had a 3.10 ERA in 49 1/3 innings during his losing streak, with 62 strikeouts and a .215 opponents average against.
On Thursday, Sale allowed homers to Matt Tuiasosopo and Cabrera. He also struck out eight and walked two in 6 2/3 innings on 124 pitches, matching his season high.
Ventura felt Sale's stuff was as good, if not better, as any of his other 16 starts this season. In fact, Ventura thought Sale might have been overthrowing a bit. Both were a little stunned by Chicago's rare offensive eruption.
"Being in that situation and watching [Phegley's] ball go over the fence was very satisfying, to say the least," Sale said. "What a game. We didn't put our heads down, didn't quit. Phegs ended up winning the game for us."
"I don't even know these guys any more the way they scored for Sale today," said Ventura with a wry smile.
Matt Lindstrom, Matt Thornton and Addison Reed (23rd save) retired the final seven Tigers after a Torii Hunter double in the seventh in what could have been called the potential trade showcase portion of the victory. The bullpen crew helped the White Sox clinch their first series win at Comerica Park since July 15-17, 2011, giving a rather dark season one major bright spot, and sending Sale to Citi Field on Tuesday with a much-deserved victory.
"You just keep going. It's a good feeling," Ventura said. "As low as it has been, you can have a series like this and beat a really good team."
"He threw well and deserved it," Phegley said of Sale. "To get run support and have him on top at the end was really good."
Scott Merkin is a reporter for MLB.com. Read his blog, Merk's Works, and follow him on Twitter @scottmerkin. This story was not subject to the approval of Major League Baseball or its clubs.