Tigers lose to White Sox despite Cabrera's 30th HR
Tigers lose to White Sox despite Cabrera's 30th HR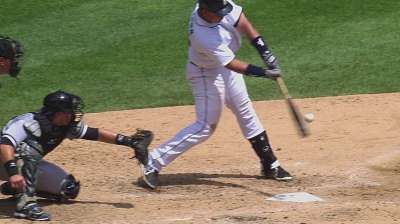 DETROIT -- The White Sox have scored an American League-worst 336 runs this season. Yet the lack of firepower didn't show in a three-game set against the Tigers, as Chicago scored 22 runs and won Thursday's rubber game, 6-3, at Comerica Park in front of a sold-out crowd of 40,444.
The Tigers used two home runs to score their three runs -- including Miguel Cabrera's 30th home run of the season in the fifth inning after Matt Tuiasosopo's two-run shot in the second -- but White Sox rookie Josh Phegley hit a grand slam in a heated sixth inning to power Chicago.
"I don't even know these guys any more the way they scored for [starter Chris] Sale today," joked White Sox manager Robin Ventura. "You just keep going. It's a good feeling. As low as it has been, you can have a series like this and beat a really good team."
Manager Jim Leyland talked to Tigers starter Anibal Sanchez after he completed the fifth inning with 83 pitches. He only threw 73 in his last start, his first back from the 15-day disabled list, but was able to come out for the sixth on Thursday. Sanchez said he was healthy, and there was no reason for him to leave the game.
But an error, walk and base hit loaded the bases for the rookie Phegley. On a 3-2 count, Phegley sent a shot to left field for his first career grand slam, and third home run in only five career games, to give Chicago a 5-3 lead.
"I was looking for something out over the plate and my only thought in that third at-bat was, 'Hit something deep to the outfield to score at least one run,'" Phegley said. "I basically hit the same ball as I did the first two at-bats, just a little better and it made it over the wall."
Said Sanchez: "I think it's not one mistake. I think it's probably the location with the pitch. If I don't miss, it's a popup somewhere. But he homered."
Sanchez gave up seven hits and five runs (four earned) in 5 1/3 innings. He walked three and struck out six. Though the results may not have been his best of the season, he's happy that he's returning to being healthy.
"I think the more important thing is this is my second start back from the DL," Sanchez said. "Everything is there, so I just have to work a little bit more with my command."
Luke Putkonen relieved Sanchez, and two batters later, he threw a pitch behind Alexei Ramirez, which led to the benches clearing after the White Sox shortstop took exception and started toward the mound, pointing at Putkonen before being restrained. No punches were thrown, but Putkonen and Leyland, who argued when Ramirez was not tossed, were ejected.
The game began simmering an inning earlier, when Sale threw up-and-in to Prince Fielder one pitch after Cabrera's homer.
"Wasn't trying to hit anybody, just threw a fastball inside and it got away from me," Putkonen said. "I didn't know I was ejected until all that stuff kind of settled down."
Alejandro De Aza added another home run for the White Sox in the eighth inning against Phil Coke. Coke has allowed an earned run in six of his last 11 appearances.
"Well I mean the other day I was up in the zone," Coke said. "I went out there and made the adjustment trying to keep the ball down, and kept it too far down. That's the result of the walks. As far as the home run went, it was supposed to be away, I left it over the middle of the plate, and he made me pay for it."
Coke admitted that he took the mound angry after the benches cleared, and it affected his pitching. However, he says he won't let his pitching struggles stick in his mind.
"Funk or not, it doesn't matter, it happens to everybody," Coke said. "So what, I'm in a hitter's slump right now, what do you do? Every time they give you the ball, you do the best job you can. Whether or not that's enough that day or not, it doesn't matter. I'm doing everything I can. I'm making adjustments in my mechanics, my timing, my delivery to the plate and everything, what do you want me to do?"
Leyland cautioned before the series that the White Sox were a talented team, and that they would start hitting and playing better baseball at some point.
His words rang true, but unfortunately it came at the wrong time for the Tigers.
Bobby Nightengale is an associate reporter for MLB.com. This story was not subject to the approval of Major League Baseball or its clubs.