Francoeur may be Giants' next left fielder
Francoeur may be Giants' next left fielder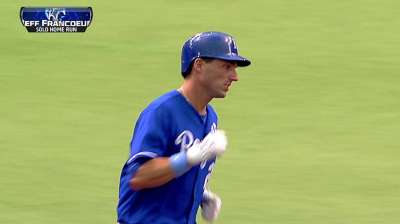 KANSAS CITY -- Outfielder Jeff Francoeur, released by the Royals on Sunday, has signed a Minor League contract with the San Francisco Giants, who are eyeing him as their potential next left fielder.
The Giants plan to have Francoeur play a few games with Triple-A Fresno to sharpen his batting eye. He last played in a game for the Royals on June 29 as a pinch-hitter.
"He has a history of outfield duty and has done some good things with the bat," Giants manager Bruce Bochy said.
However, Francoeur has played just two games in left field during his career, most of which has been spent in right field due to his powerful throwing arm. But Hunter Pence is entrenched in right for the Giants, who have a void in left field.
Francoeur, who was designated for assignment by Kansas City on June 30, hit just .208 with three homers and 13 RBIs. That came right after a career-low .235 average in 2012, when he recorded 16 homers and 49 RBIs.
Francoeur earned a two-year contract after a bounce-back season in 2011, his first year with the Royals, when he hit .285 with 20 homers and 87 RBIs along with a career-high 22 stolen bases. The Royals are liable for the remainder of Francoeur's $6.75 million salary for 2013, minus whatever the Giants pay him based on the prorated minimum salary.
Paul Casella is a reporter for MLB.com. Follow him on Twitter @paul_casella. This story was not subject to the approval of Major League Baseball or its clubs.