Rockies scratch out 13 hits to claim series win
Rockies scratch out 13 hits to claim series win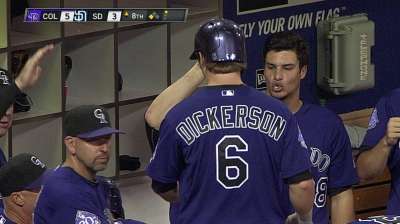 SAN DIEGO -- The Rockies hustled for a lead and bit their nails until finally escaping San Diego with a 5-4 victory Wednesday night, but they're entering a period when maybe they won't have to be so scrappy.
A four-run lead nearly disappeared when the pitching ran into a snag. Charlie Blackmon's second RBI, on an eighth-inning triple, provided just enough cushion to give the Rockies the victory in front of 19,411 at Petco Park, where they took two of three.
"You look at this series and we've played well, pitched the ball really, really well, and a lot of guys had good at-bats tonight -- a little momentum, I guess you could say," said Blackmon, whose 2-for-5 night also included an RBI single in the sixth inning.
The firepower is returning, just in time for a four-game series at Los Angeles that will take the Rockies into the All-Star break.
Leadoff man Dexter Fowler is expected to play Thursday after being out with a right hand injury and cleanup man Troy Tulowitzki could be back from broken ribs Thursday as well. National League home run leader Carlos Gonzalez returned Wednesday after missing two games with a right middle finger sprain.
Despite going 9-16 without Tulowitzki, the Rockies head to Dodger Stadium 3 1/2 games behind the NL West-leading D-backs and might have their best lineup intact.
Still, the Rockies will need to remember the spirit of Wednesday's performance, when Jonathan Herrera had a sacrifice fly and hustled out a bunt hit to set up a run, and Todd Helton and DJ LeMahieu added two singles apiece. The Rockies finished with 13 hits.
"Like I've said all year, you don't bang the ball around every night in this league," Rockies manager Walt Weiss said. "You've got to be able to win a variety of ways, but having that firepower is always nice."
Through six games of a 10-game road trip, the scrappy way has been the only way for the Rockies. They have two home runs in the trip, and with the heavy hitters out and Gonzalez compromised, they weren't going to bust down any fences at pitcher-friendly Petco Park.
If anything, the Rockies needed to prove they could string together good at-bats and fundamental offensive plays to win a game. They put together little offense of any kind while dropping all three games at Arizona to start the trip, and on Tuesday night, they managed just four hits and lost a winnable game, 2-1, to the Padres.
"Arizona was just awful -- we didn't have a chance to win any of the games, no offense, no pitching," Gonzalez said.
The Rockies needed eight hits and two walks to build a 4-0 lead against Padres starter Andrew Cashner (5-5).
"He wasn't quite locating his pitches and they had some good at-bats and made good contact," Padres manager Bud Black said. "They nicked him."
Rockies starter Jorge De La Rosa (9-5) gave up just two hits in five-plus innings. But one of the hits was Carlos Quentin's two-run homer -- after a walk on a 10-pitch at-bat against Chase Headley -- in the sixth to cut the difference to 4-2. De La Rosa struck out four, but also walked four. Still, he helped the Rockies improve to 10-3 in his past 13 starts.
"My mechanics weren't so good tonight -- I was a little wild but I made the pitches when I needed," De La Rosa said. "But what we're looking for is to win every series. It was a start here."
The Padres couldn't take advantage of De La Rosa's lack of sharpness.
"He had a good changeup and split," Headley said. "He threw enough strikes and was ahead on most counts."
Edgmer Escalona labored after replacing De La Rosa, but escaped when he forced a fly to center from veteran Mark Kotsay, whose hitless streak reached 22 at-bats. Matt Belisle, overall on the upswing after a slump, gave up an Everth Cabrera double and a Chris Denorfia single.
Blackmon not only had his cushion-building triple in the top of the eighth, but he dove to catch a Logan Forsythe fly ball to help Rex Brothers deliver a clean eighth inning.
The run was needed because Headley singled in a run with two out in the ninth against closer Rafael Betancourt (13 saves). But Helton reached into the Padres dugout to nab Quentin's foul popup to end the game and assure the Rockies of a measure of success on this road trip.
"It still comes down to how we play in L.A., but this was good," Helton said. "We'll keep our heads up a little bit."
Thomas Harding is a reporter for MLB.com. Read his blog, Hardball in the Rockies, and follow him on Twitter @harding_at_mlb. This story was not subject to the approval of Major League Baseball or its clubs.