Gray's debut encouraging in loss to Bucs
Gray's debut encouraging in loss to Bucs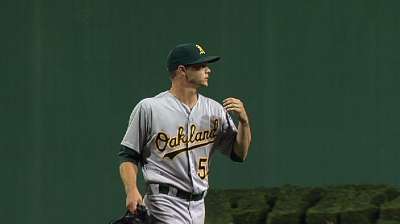 PITTSBURGH -- With as much as there was for the A's to bemoan Wednesday night in Pittsburgh, particularly following a nearly three-hour rain delay on getaway day, there was a bright spot in youngster Sonny Gray.
Oakland lost the series finale, 5-0, following the shortest outing of Tommy Milone's career, but got two scoreless frames from Gray, the club's 2011 first-round Draft pick called up earlier in the day.
Making his Major League debut, the 23-year-old Gray fanned three, including his first two batters, and allowed just one hit in relief, touching 96 mph on multiple occasions.
"I thought he was really good," manager Bob Melvin said. "You can have some nerves, and sometimes that shows up in command, but he was on it right away. Good curveball, threw a good slider, too. His stuff was excellent. Good start for him."
Aside from the right-hander's outing, though, not much else was encouraging in this game. Despite the loss, though, the first-place A's head home having gone 4-2 on their road trip through Kansas City and Pittsburgh, picking up series wins in both cities.
Milone was off from the start Wednesday, boarding two in the first and just as many in the second. He got out of both innings unscathed, but that was not the case in a three-run third, which he exited after two outs, having allowed seven hits while using 80 pitches in his time on the mound -- throwing more than half of them in the third.
"I was obviously throwing a lot of pitches," Milone said. "Toward the end there, I felt like I was getting a little fatigued but still making some good pitches. They were doing a good job of putting the ball in play. Even though they weren't hit very hard, you always give yourself a chance when you put the ball in play, and that's what they were doing."
"They were fouling a lot of pitches, making him work," Melvin said. "The reason I took him out when I did was, I wasn't going to let him throw 50 pitches in an inning. I would have loved to have tried to let him finish the inning, but I can't put him in that position."
Righty reliever Pat Neshek took over for Milone, making his first appearance since June 29, and was tagged for two runs.
The A's offense, meanwhile, managed just four hits off righty Francisco Liriano, who struck out six and walked one in seven impressive innings.
"He was pretty good tonight, and we've seen him good before," Melvin said, "but his stuff was tough to pick up today."
So was Gray's, who was limited to two innings to remain available for this weekend's Red Sox series at the Coliseum. Melvin was unsure how he would use Gray -- a natural starter -- moving forward, only certain that he would.
"You have that kind of stuff, we'll find a spot for him," Melvin said. "Really, with his stuff, I don't know that it really matters to tell you the truth."
Not to Gray, who is just happy to be here.
"It was good to get out there and compete," Gray said. "It was pretty exciting, but it just [stinks] we didn't come out with a win, especially on the first day.
"I didn't know if I'd be nervous or not. Tonight, I don't know what it was, but I wasn't. I was relaxed."
"He was amazing," Milone said. "He came out, threw strikes, went after hitters. It seemed like he had a devastating curveball. It's pretty impressive what he was able to do.
Jane Lee is a reporter for MLB.com. Read her blog, Major Lee-ague, and follow her on Twitter @JaneMLB. This story was not subject to the approval of Major League Baseball or its clubs.