Wright's HR Derby selection of Cuddyer questioned
Wright's HR Derby selection of Cuddyer questioned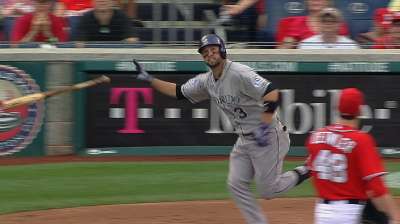 SAN DIEGO -- ESPN analyst Nomar Garciaparra said Wednesday that any backlash the Mets' David Wright is receiving for picking the Rockies' Michael Cuddyer for the Chevrolet Home Run Derby is simply what comes with having a position of responsibility.
Pirates television announcers have unabashedly criticized the decision, saying Pedro Alvarez should have been picked. Other players have their boosters.
Cuddyer will join teammate Carlos Gonzalez and the Nationals' Bryce Harper on Wright's National League team for the event on Monday night during the All-Star festivities.
"You can't argue with Carlos Gonzalez or Bryce Harper, and people want to see them," Garciaparra said during a media conference call. "The only one you might question is Michael Cuddyer. ... [Wright] had options. He had Domonic Brown, I'm sure in Philly, when they're talking about Domonic Brown, and [the D-backs'] Paul Goldschmidt and Pedro Alvarez. I mean, unfortunately that's what comes with it. When you're the captain, you have to pick. Those guys are all great options."
Garciaparra recalled the Yankees' Robinson Cano experiencing fan displeasure during last year's event in Kansas City, when he made an unpopular choice with local fans. At least the Home Run Derby is at Wright's home park, Citi Field. The reception might not be so warm the next time the Mets travel to Pittsburgh.
"We saw that a lot with Cano when he was in Kansas City for not picking [Billy] Butler, and he had a tough time, and his performance was out there and they were really on him in Kansas City," Garciaparra said. "The unfortunate thing is you understand how the fans feel, but at the same time, it was a time to also appreciate the guys who were out there and what they bring and appreciate this great game and celebrate this great game.
"So I thought that was unfortunate, how long it kept going, but I think David Wright has thick skin, huge shoulders and is confident and he explained why he picked the guys he did."
Wright and Cuddyer grew up in the Virginia Beach area. They each participated in a home run contest a few years back -- one Cuddyer won.
"I think that he's one of the more underrated players and a friend, and our relationship had a lot to do with it, and his production had a lot to do with it," Wright said in explaining the decision. "He has 15 home runs and had a 27-game hitting streak, so, for me, that was my choice."
Download the official MLB.com Home Run Derby Game, featuring 24 sluggers from the 2010-12 Home Run Derby events. Connect and challenge gamers on the worldwide leaderboards. Available for free on the Apple App Store.
Thomas Harding is a reporter for MLB.com. Read his blog, Hardball in the Rockies, and follow him on Twitter @harding_at_mlb. This story was not subject to the approval of Major League Baseball or its clubs.