Overbay's slam opens floodgates for Yanks
Overbay's slam opens floodgates for Yanks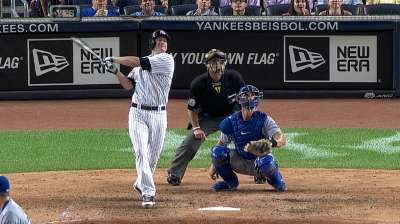 NEW YORK -- There was a sense of relief when Robinson Cano watched his third-inning blast smack the concrete loading dock beyond the center-field wall. That one swing clinched the best offensive showing the Yankees have been able to produce in days.
As pleased as Cano was to see his team chalk up more than a run, he was thrilled three innings later as the Yankees got to enjoy a laugher. Lyle Overbay blew the night open with his fourth career grand slam, powering New York to an 8-1 victory over the Royals on Wednesday at Yankee Stadium.
"We needed that really bad," Cano said. "We couldn't score a run the last few games. Thank God we came today and did a pretty good job."
After being limited to one run in each of their last three games, all losses, the Yankees flashed a rare glimpse of their Bronx Bombers DNA as they pounded Kansas City starter Wade Davis for eight runs in five-plus innings -- their biggest output in the Bronx this season.
"It's nice," Yankees manager Joe Girardi said. "I've said all along, we're going to have to win a lot of close games this year. We've been pretty good at it, but it's nice to win a game 8-1."
Ivan Nova gladly accepted the support, sailing through eight innings of one-run, five-hit ball as he stakes his claim for a permanent rotation slot. Nova flashed a tight curveball and good command of his fastball, continuing his summer revival after a lackluster start to the year.
"I don't remember the last time I felt the way I'm feeling now," Nova said. "I think that's one of the reasons I'm pitching so good."
The right-hander struck out six and walked two, his confidence surging after a complete-game victory over the Orioles his last time out.
"Getting him back on track was really important to us," Girardi said. "We've seen him pitch really well. He got out of whack the second half [of 2012] and struggled a little bit at the beginning of the year, but he's back on track."
Nova had a quick run to work with as Brett Gardner crossed the plate with a headfirst slide on Davis' first-inning wild pitch. It was a play that saw Ichiro Suzuki push the envelope as he was thrown out trying to score from second base, indicative of the Yanks' recent struggles in manufacturing runs.
Cano came up with the answer to that issue, clubbing his team-leading 21st home run in the third inning, part of a three-hit night for the Yankees' second baseman.
"Cano actually hit a good pitch -- a curveball down and away," Royals manager Ned Yost said. "That's a pretty darn good pitch for a three-run homer. And then [Davis] threw the ball fine until the sixth inning."
Cano's homer was the 1,559th hit of his career, moving him past Thurman Munson for 18th place on the Yankees' all-time list.
Nova pitched out of a Royals threat in the fifth, getting Alcides Escobar to fly out with the bases loaded, and the Yankees pounced on the missed opportunity in the sixth as they loaded the bases against Davis via two hits and a walk.
Overbay worked a professional at-bat to draw the count full, then jumped on a high fastball and hit it the opposite way over the left-field fence.
"I'm just glad I put a good swing on it and put it in the outfield for a sac fly," Overbay said. "I can't remember how many times I've struck out with bases loaded. I was just happy I put the ball in play and basically got a sac fly, and then it kept going."
The shot marked Overbay's first grand slam since May 10, 2006, when he was with Toronto and took the A's Joe Blanton deep.
"He's had a lot of big hits for us," Girardi said. "Obviously, that's a hit that really gives you a big lead. He's played outstanding at first and in right field, and in everything we've asked him to do. He's been really good for us."
Joba Chamberlain pitched a scoreless ninth inning to wrap up the night for the Yankees. While Nova said that he would have loved another complete game, he also wasn't surprised by the move since his pitch count had risen to 105 after eight innings.
"I was thinking just to do my job and help the team win games," Nova said. "Even when the team is really good, you keep that mentality. You've got to do your job."
Naturally, this being a Yankees game, there were some injury concerns before the evening was complete. Gardner and Travis Hafner were forced out early with bruises, but X-rays performed on both during the late innings were negative, and both are day to day.
Considering the situation they had been in for the previous three nights, the Yankees were in no mood to argue. They'll still need to prepare to win tighter games down the stretch, but blowouts like these will always be welcome.
"Of course," Cano said. "How many games can you see that you score eight runs and lose the game?"
Bryan Hoch is a reporter for MLB.com. Follow him on Twitter @bryanhoch and read his MLBlog, Bombers Beat. This story was not subject to the approval of Major League Baseball or its clubs.