Without Royals' help, Davis done in by homers
Without Royals' help, Davis done in by homers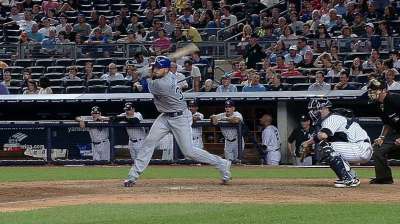 NEW YORK -- Despite often being a stat-driven game with closely monitored pitch counts, endless numerical methods for evaluating hitters and ever-evolving metrics, baseball is not always explained fully by numbers.
Such was the case on Wednesday night, according to Royals manager Ned Yost, when his team absorbed an 8-1 rout at the hands of the Yankees.
Though starter Wade Davis was tagged for a career-high-tying eight runs while lasting just five-plus innings, Yost insisted this was one of those cases where the numbers were simply deceiving.
"Wade threw the ball fine," Yost said. "He really did."
Davis agreed to an extent but also acknowledged that he struggled with his command at times, especially when pitching out of the stretch.
The trouble for Davis started from the get-go, as he issued a leadoff walk in the first inning to Brett Gardner, who later came in to score the game's first run on a wild pitch that bounced away from catcher George Kottaras. Davis ran into more trouble two innings later when he hit Gardner with a pitch to put two runners on with only one out. After retiring Ichiro Suzuki, Davis served up a two-out, three-run homer to Yankees slugger Robinson Cano, extending the Yankees' lead to 4-0.
"The pitch to Cano, I thought, was a pretty good pitch," Davis said. "It would have gotten me out of that inning, but he put a pretty good swing on it. I've seen him do it before, and unfortunately, tonight it was against me."
The early lead was more than enough for Yankees starter Ivan Nova, whose final numbers -- one run on five hits over eight innings -- may not accurately depict the degree of his dominance.
Nova coasted for much of the night after escaping a brief first-inning threat, retiring 12 straight hitters until second baseman Johnny Giavotella reached on a two-out single in the fifth. Kottaras followed with a hit of his own and Alex Gordon walked to load the bases, but shortstop Alcides Escobar flied out to left field, leaving the bases loaded to end the frame with the Yanks' 4-0 lead intact.
"I feel like we're always in the ballgame," center fielder Lorenzo Cain said. "A hit here, a hit there -- I think it changes everything, but we didn't get it done tonight. We've just got to come out and win the series tomorrow."
After missing out on their bases-loaded opportunity in the fifth, the Royals saw their problems mount one inning later when the Yankees took full advantage of their own bases-loaded situation.
Just when it appeared Davis had settled in, tossing back-to-back hitless innings in the fourth and fifth, the righty hit another wall in the sixth. After yielding back-to-back singles to start the frame, Davis again struggled with his command, walking left fielder Zoilo Almonte to load the bases for veteran first baseman Lyle Overbay.
After working the count full, Overbay ended Davis' night by hitting an opposite-field grand slam that just carried into the left-field seats as Davis crouched in front of the mound, watching in disbelief. In all, Davis surrendered all of the Yankees' runs on six hits, including the two homers, over five-plus innings.
"I'm just glad I put a good swing on it and put it in the outfield for a sac fly," Overbay said. "I can't remember how many times I've struck out with the bases loaded. I was just happy I put the ball in play and basically got a sac fly, and then it kept going over that short porch."
Prior to Wednesday, Davis had allowed just two home runs over his last six outings and hadn't served up multiple round-trippers in a game since May 10, a span of 10 starts.
With the deficit ballooning to 8-0 following the Yankees' second homer, the only question that remained seemed to be whether the Royals would finally break through against Nova. That answer came in the form of a run-scoring double off the bat of Eric Hosmer in the eighth inning.
"He was throwing hard, 94-96 [mph]," designated hitter Billy Butler said. "When you locate stuff like that, you're going to be good. He had a good curveball working to go with it. He just had good stuff. That's the bottom line: He had good stuff, and he was locating it."
In Yost's mind, regardless of what the box score says, the same could be said for his starting pitcher -- with perhaps a couple of exceptions. Yet with his club unable to capitalize on the few opportunities it had against Nova, even one misstep by Davis was one mistake too many.
"I felt good the whole game," Davis said. "Just a couple of mistakes really hurt me, and in the end, that was the difference tonight."
Paul Casella is a reporter for MLB.com. Follow him on Twitter @paul_casella. This story was not subject to the approval of Major League Baseball or its clubs.