Steady runs not enough as Astros fall to Cards late
Steady runs not enough as Astros fall to Cards late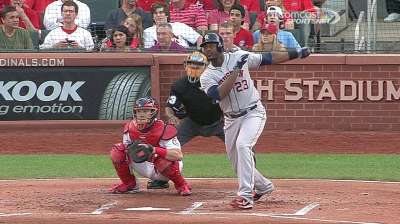 ST. LOUIS -- For a moment, it appeared the team with the most losses in baseball might take down the team with the least Wednesday. But that moment quickly evaporated in the seventh, when Matt Carpenter smashed a two-run homer to right field that was the difference in the Astros' 5-4 loss to the Cardinals.
Jose Altuve led off the seventh with a single and former Cardinals prospect Brett Wallace drove him home for the go-ahead run. With a 4-3 lead, Jordan Lyles, who had held the Cardinals in check, plunked Tony Cruz and struck out pinch-hitter Yadier Molina before handing the ball to reliever Wesley Wright. The left-hander promptly surrendered the go-ahead blast to Carpenter.
Astros manager Bo Porter said he always intended to send Wright, a lefty, to the mound against the left-handed-hitting Carpenter.
"That was a totally left-on-left decision," Porter said. "And you look at the stress of the innings in which [Lyles] had gotten to that point. I sent him back out there with the notion that he was gonna face Cruz, he was gonna get the pinch-hitter, and that Wesley was going to be ready for Carpenter."
"I take a lot of pride in those situations, being a tough out," Carpenter said. "And obviously, the other team is thinking that they're bringing in a left-hander to get you out. My goal in that situation is to do whatever I can to not make that happen. Tonight, it worked in my favor."
Lyles limited the Cardinals to one run for four innings, but allowed a rally in the fifth, as Matt Holliday's two-out single with the bases-loaded drove in two and tied the game at 3. Lyles navigated 6 1/3 innings, surrendering four earned runs on six hits and two walks while striking out two.
"A couple breaking balls got away, but for the most part, fastball command was pretty good," Lyles said. "Just need to make better pitches, but overall, [catcher Jason Castro] called a great game."
The Astros jumped on Cardinals starter Shelby Miller for two runs in the second. Chris Carter showed no ill effects from the minor hand injury that limited him the last four days as he opened the frame with a line-drive homer to right. Miller surrendered a single to Wallace on the next at-bat and issued two of his five walks in that frame as the Astros continued to threaten.
Despite Miller's second-inning struggles, the Astros only had two runs to show for it -- Carter's homer and a run scored by Wallace on a fielding error by Carpenter at second base. With the bases loaded, Altuve flied out to right field, stranding three of the 11 runners the Astros left on base.
"You're not going to be able to drive in every run every time," Wallace said, "but obviously, we would like to capitalize with those guys on base."
Miller settled down to strike out the side in the third, but walked two more batters and gave up three more hits and another run before he was pulled after the fifth with his pitch count at 94.
"It was a rough one," Miller said. "I didn't have anything going for me. I couldn't throw strikes with much of anything. I tried to keep the team in it with what I had, which wasn't much. The offense picks you up. This team, these guys, never cease to amaze me when they go out and do the things they do. They're always trying to figure out a way to win. They come up huge."
One night after rallying for four runs in the ninth to force in Cardinals closer Edward Mujica for a one-out save of what was once a blowout, the Astros threatened to tie it in the eighth as pinch-runner Jimmy Paredes reached third on a single from Altuve. But Cardinals set-up man Trevor Rosenthal struck out Castro to escape the inning unscathed.
Wallace was among the bright spots for Houston with a personal-best four hits in five at-bats for his fourth career game with three hits or more against his former organization. Wallace was selected 13 overall by the Cardinals in the 2008 First-Year Player Draft, but was traded to the A's in '09 as part of a package for Holliday.
"It's always fun to do [well] against them just because I know a lot of the guys and we've been here quite a bit," Wallace said. "It's a good place to hit, it's a good place to play. The fans are awesome, it's a great environment."
The Astros split the two-game series with the Cardinals and fell to 8-9 in Interleague Play in their first season in the American League. With just a three-game series against the Reds remaining, Houston is one game shy of its first .500 Interleague record since 2007 and not far off from its first winning record since '04.
Chad Thornburg is an associate reporter for MLB.com. This story was not subject to the approval of Major League Baseball or its clubs.