Tucson vet Parker is D-backs' All-Star hero
Tucson vet Parker is D-backs' All-Star hero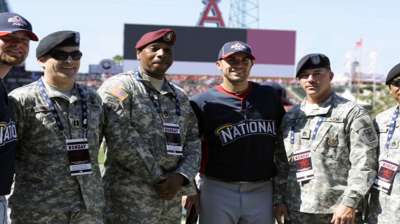 PHOENIX -- Major League Baseball and People Magazine announced the 30 winners of the "Tribute for Heroes" campaign on Wednesday, with Margo Parker of Tucson, Ariz., selected to represent the D-backs.
All of the winners, who were voted on by fans nationwide, will participate in All-Star Week festivities that includes a private tour of the 9/11 Memorial and Museum, a VIP reception on the Intrepid, All-Star Red Carpet Show Presented by Chevrolet, Chevrolet Home Run Derby and being honored during the pregame ceremony leading up to the 2013 All-Star Game at Citi Field, which airs Tuesday on FOX beginning at 4:30 p.m. MST.
Parker was the first woman in California to enlist in the military after Congress passed a law allowing women to sign up for service. Years later, she and her husband each received orders for Desert Storm while they had six children at home in Tucson. Ultimately, Parker was able to serve locally while her husband deployed to the United Arab Emirates.
Today, Parker is retired from the Air Force, but she still works full time for her children and 14 grandchildren.
The "Tribute For Heroes" campaign supports Welcome Back Veterans, an initiative of Major League Baseball and the Robert R. McCormick Foundation, which addresses the needs of veterans after they return from service. Major League Baseball has committed more than $23 million for grants to hospitals and clinics that provide post-traumatic stress disorder (PTSD) and traumatic brain injury (TBI) treatment to veterans and their families in a public/private partnership with "Centers of Excellence" at university hospitals throughout the country.
The complete list of "Tribute For Heroes" winners and their full stories can be found at TributeForHeroes.com.
Tyler Emerick is an associate reporter for MLB.com. This story was not subject to the approval of Major League Baseball or its clubs.