Samardzija allows nine runs in loss to Angels
Samardzija allows nine runs in loss to Angels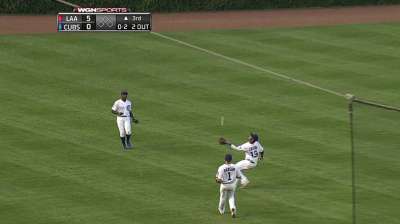 CHICAGO -- Jeff Samardzija began the season with an impressive Opening Day victory, holding the Pirates to two hits over eight shutout innings. On Wednesday, he ended the first half with what he called a head-scratcher.
Josh Hamilton smacked two home runs and drove in five runs, Albert Pujols hit his second homer in as many days, and Mark Trumbo belted his team-leading 20th to power the Angels to a 13-2 romp over Samardzija and the Cubs for a split of the Interleague series.
The Angels defied the elements at Wrigley Field on a night when the wind was blowing in from the northeast and the conditions favored the pitchers. Just not Samardzija.
The right-hander struggled from the beginning. He served up a season-high nine runs, including five in the first inning, over 4 2/3 innings, his shortest outing of the season. Samardzija had given up nine earned runs over 35 innings in five starts in May alone.
"Give credit to some really good hitters," Cubs manager Dale Sveum said. "They get paid a lot of money to hit mistakes and they obviously didn't miss them tonight."
Erick Aybar led off the game with a double down the right-field line and scored on Mike Trout's double that third baseman Cody Ransom deflected with his glove into foul territory. Pujols walked, then Hamilton followed with his 13th home run to open up a 4-0 lead four batters into the game. One out later, Trumbo belted his home run into the left-field seats for a 5-0 lead. It was a 29-pitch inning for Samardzija.
Pitching coach Chris Bosio tried to get Samardzija back on track when he went to the mound after the right-hander fell behind Hamilton 2-0. Hamilton dropped the next pitch into the seats.
"Teams like that take advantage of you when you're not doing what you want to do," said Samardzija, who admitted he was flying open with his delivery. "A lot of this game is rhythm. If you can't get into a rhythm right out of the gates, you'll be battling the whole game."
Obviously, Samardzija couldn't find his.
"I've thrown worst games," Samardzija said. "I've had worst stuff out there. To sit and be totally down isn't the case. It's just a little bit more about pitch sequences and getting ahead in the count. I think that's the big thing for me. When I'm behind in the count, it changes the game a lot. It puts me on my heels and puts them on their toes, and that's not the way I pitch."
Hamilton, who notched his first multi-homer game of the season, said they took advantage of Samardzija.
"The key was early, obviously, he wasn't throwing strikes," Hamilton said. "And when a pitcher does that, you look for something out over the plate. He had good stuff, a split-finger, slider, all the above. He just wasn't commanding it."
Ransom doubled off Angels starter C.J. Wilson to open the Cubs fourth, and scored on Anthony Rizzo's single. Ransom also added a solo home run in the ninth. That was it.
The Angels piled on with a six-run fifth, sending 12 batters to the plate. Pujols hit a two-run homer, and Hamilton followed with his 14th for their first set of back-to-back homers. Two outs later, Hank Conger doubled to chase Samardzija. Brendan Harris chipped in, greeting Henry Rodriguez with a two-run homer. The Angels then loaded the bases, and Rodriguez walked Pujols to force in another run for a 11-1 lead.
"We know what we can do," Pujols said of himself and Hamilton. "You just need to continue to do your thing and not try to think too much about whether you're struggling or whether you're having success. We're in the middle of our lineup and our job is to produce. Sometimes, you're going to struggle more than you produce. And that's the way it is."
It was a struggle for the Cubs, who suffered their most lopsided loss of the season. The Angels recorded 11 extra-base hits for the fourth time in franchise history. They hit the most home runs against Chicago in a game (five) and the most homers in one inning with three in the fifth.
Samardzija's first half was similiar to last season, when he was 6-8 in 17 starts with a 4.71 ERA.
"[Last year] he got out of the gates really well and went into the break struggling a little bit and then the last eight starts he had were awesome," Sveum said. "I think it's one of those things now, a little bit of confidence, and trying to do too much when things get out of whack."
Samardzija's next start will be the Cubs' first game after the All-Star break on July 19 against the Rockies. That means he gets an extended rest.
"After today, it's a great thing," Samardzija said of the time off. "I'll take all these days and get back to the drawing board. I'm excited to take a deep breath these next couple days and use the All-Star break to get some work in."
On the plus side, the Cubs finished the Interleague portion of their schedule 13-7, and the 13 wins were a single-season franchise record.
Still, they're 14 games back in the National League Central, and despite Wednesday's loss ending a four-game winning streak, the Cubs have won 11 of their last 18 games, and six of their last nine series.
"It's a huge hole," Sveum said, "but the starting pitching always gives you a chance. Even though we're playing well, there has to be that streak of wins to climb back into something, especially when you have three teams, four teams to climb over. It takes a 10-game winning streak to say, 'OK, now we've got a chance.'"
Not this time.
"You can't really sugar coat it too much," Samardzija said. "They kicked my [behind] today and that's the way it goes. It's a resilient game. You've got to learn from your mistakes and go from there."
Carrie Muskat is a reporter for MLB.com. She writes a blog, Muskat Ramblings, and you can follow her on Twitter @CarrieMuskat. This story was not subject to the approval of Major League Baseball or its clubs.