Carpenter throws sim game, readies for rehab start
Carpenter throws sim game, readies for rehab start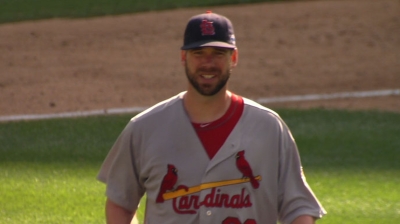 ST. LOUIS -- Chris Carpenter is about to be on the clock.
Less than an hour after Carpenter wrapped up a three-inning simulated game Wednesday at Busch Stadium, the Cardinals announced the veteran right-hander will begin a Minor League rehab assignment Monday. That first start will come with Double-A Springfield, and it will begin a maximum 30-day Minor League stay before the Cardinals have to decide where, if and how Carpenter fits with the big league club.
"There's definitely some excitement about starting the process to get back," Carpenter said. "Again, I hold a little caution just not to get too far ahead of myself. But things have been going well the last few weeks and to start that process to get back is definitely something to be excited about."
Before clearing Carpenter to take the next tangible step forward in his rehab, the Cardinals wanted to see how he fared with hitters standing in against him. It was not so much the results that mattered, but how Carpenter made those batters react.
For three simulated innings, Shane Robinson, Pete Kozma and Rob Johnson challenged Carpenter. It was the first time Carpenter faced hitters in little more than a month. Robinson described Carpenter as "a lot better" than in the previous session.
"His velocity was up from last time, and to me, he was very impressive," Robinson said. "He threw me some pitches that I had no shot on and was just trying to battle and foul them off. I think he wishes he was game-ready right now, and he might have shown a little bit of frustration with that, but that's just him being competitive and wanting to put his pitches where he wants them. But for the most part, he was putting them in the spots he wanted to."
Manager Mike Matheny, who was among a large group gathered behind home plate to watch, added, with a grin, that "the [radar] gun looked good."
Carpenter will throw about 60 pitches in his rehab start. The organization has not settled on how many starts Carpenter will make in the Minors, though this schedule will give him the opportunity to make three on normal rest before the July 31 non-waiver Trade Deadline. That is of consequence, because Carpenter's progress could affect the club's decisions.
While Carpenter will build up his arm as a starter, the Cardinals have not guaranteed him a spot in the rotation upon his return. Carpenter understands he has to prove not just that he is healthy, but that he can offer the Cardinals a boost.
"There are some tests that I have to pass to get an opportunity to get into this rotation," Carpenter said. "That still has to happen. I have to go down there and get better and prove that I can stay healthy and prove that I am good enough to take one of these guys' spot. What I've done in the past doesn't mean I get an opportunity to step in and kick someone out of here when we're doing so well. There's a long process to what this was all about when it started. And we're sticking to that plan and being honest with each other, making sure it's the right thing."
Carpenter did not have an opportunity to pitch on a rehab assignment last year, when he returned from thoracic outlet syndrome in September after the Minor League seasons already ended. His delay in getting back on the mound this year was due to recurring symptoms related to thoracic outlet syndrome, as well as a back injury.
At the time he stopped throwing in February, all indications were that Carpenter would be unable to pitch again this season.
"Going into this, when I came down to [general manager John Mozeliak] and approached him about this chance to go ahead and see if I could make this happen, it was to proceed with caution and make sure every step we do it the right way and not get too far ahead of ourselves," Carpenter said. "It's one step at a time and see what happens."
Jenifer Langosch is a reporter for MLB.com. Read her blog, By Gosh, It's Langosch, and follow her on Twitter @LangoschMLB. This story was not subject to the approval of Major League Baseball or its clubs.