Yanks patient while A-Rod works off rust
Yanks patient while A-Rod works off rust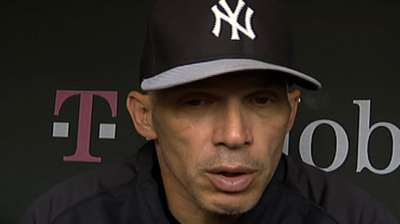 NEW YORK -- The Yankees can hear Derek Jeter all the way from Pennsylvania, professing his belief that he is ready to join the big league club.
They've heard no such commentary from Alex Rodriguez, who played again on Wednesday for Class A Advanced Tampa and went 1-for-3 with an RBI single, but manager Joe Girardi said that too much shouldn't be read into that.
"I think Alex feels that he's not to that level, that he's not ready to go," Girardi said. "What I've said in every rehab is when the player tells you he's ready, you make an evaluation.
"Some players are going to tell you they're ready the first day of Spring Training; that's just who they are. You have to make the evaluation, so it's kind of when we feel that they're ready. We'll evaluate it and see what it is. We don't think he's to that point yet."
Yankees co-chairman Hank Steinbrenner told the New York Daily News on Wednesday that he is confident Rodriguez will return to the Bombers, and that they need his presence.
"He's just in the process of coming back," Steinbrenner said in Tampa, Fla. "It's going to take a little while for him to get the whole timing down and everything else. It's going to take a little time. He was popping the ball good in batting practice, so he just has to get his timing down with pitching again."
Steinbrenner told the Daily News he is not surprised that Rodriguez has needed some time to get his stroke back, coming off a second major hip surgery.
"He'll work his way back into it," Steinbrenner told the newspaper. "He seems nice and relaxed and really wants to come back. We'll see what happens. We could certainly use him, you know?"
Bryan Hoch is a reporter for MLB.com. Follow him on Twitter @bryanhoch and read his MLBlog, Bombers Beat. Josh Vitale is an associate reporter for MLB.com. This story was not subject to the approval of Major League Baseball or its clubs.