Tribe unable to 'pen winning ending vs. Jays
Tribe unable to 'pen winning ending vs. Jays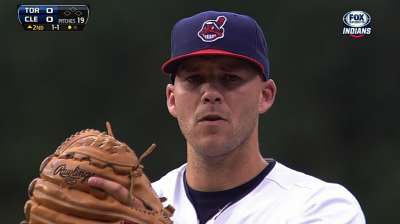 CLEVELAND -- Joe Smith knew he didn't have his best stuff on Wednesday night. Still, the Indians reliever thought he could get one out.
That proved to be a tough task for Smith, who entered in the ninth inning of a tie game with two outs and a man on first. The right-hander gave up a single and a walk to load the bases, and Blue Jays No. 9 hitter Munenori Kawasaki made the most of the situation.
With two strikes, Kawasaki sent a liner over the head of shortstop Asdrubal Cabrera, and some shaky defense in center by Michael Bourn allowed all three runners to score. The Indians rallied for two runs in their half of the ninth, but dropped a 5-4 decision at Progressive Field.
"I said I was good," asserted Smith, who had pitched in each of the Tribe's previous three games. "I felt all right, but I wasn't good. That was far from that, that's for sure."
Smith's appearance came about just as Cleveland had planned. Left-hander Rich Hill began the ninth and retired two of the three hitters he faced, walking Colby Rasmus with one out. As expected, Josh Thole came out in favor of right-handed-hitting J.P. Arencibia.
Arencibia was 0-for-4 with four strikeouts and a walk in five career plate appearances against Smith, who relieved Hill. But Arencibia singled, and after Emilio Bonifacio walked, the bases were loaded for Kawasaki.
Hitless in his prior 18 at-bats, Kawasaki sent a 1-2 sinker from Smith into the outfield to put Toronto on top. Bourn mishandled the ball and let loose a wild throw to the infield, which compounded the damage.
"You sit there and it's like, 'Man, even if I could have given up one run, we would have won the game,'" Smith said. "It [stinks]."
The Tribe's ninth-inning scoring kicked off with Cabrera's RBI single off Blue Jays closer Casey Janssen, which made it 5-3. Bourn, who singled and moved to second on indifference with two outs, scored on the play.
Janssen then walked Jason Kipnis before an error by Kawasaki on Nick Swisher's grounder scored Cabrera and extended the inning. Janssen was lifted for Steve Delabar, who got Michael Brantley on a fly ball to center to end the game.
"Great ballgame, it really was," Blue Jays manager John Gibbons said. "We took the lead, they came back and it got pretty hairy at the end, but there was a lot of good things tonight."
For the first six innings, the Blue Jays couldn't produce much against Tribe starter Justin Masterson, despite walking five times against him, and it appeared entirely possible that Masterson might add to his Major League-leading three shutouts.
But the sinkerballer's command was even less sharp in the seventh than it had been all night, and the Blue Jays grabbed the lead with a pair of runs on Bonifacio's two-out single with the bases juiced.
That was it for Masterson, who was replaced by righty Preston Guilmet. In his Major League debut, Guilmet struck out Kawasaki with a slider on a full count, keeping the Indians within a run.
"If I finish that seventh the way we're supposed to, it would have been probably a different story tonight," Masterson said.
Over 6 2/3 innings, Masterson gave up a pair of runs while allowing four hits and striking out six to go with the five walks. The last time Masterson handed out so many free passes was July 18, 2012, when he issued seven walks during 4 1/3 innings against Tampa Bay.
"He didn't command all night," Tribe manager Terry Francona said. "We had several walks. But his two-seamer, it was so violent that it was almost hard to keep it in the zone at times. That's a good thing because they can't hit it. But, there was a lot of base runners for a good amount of hits."
The Indians erased the initial deficit in the eighth, as Bourn kicked things off with a base hit up the middle. He stole second before heading to third on Kipnis' grounder. Bourn then sauntered home when Brantley hit an outside curveball into left-center field for a single and a 2-2 tie.
Cleveland got its first run in the second inning, when Toronto starter Esmil Rogers issued leadoff walks to Brantley and Carlos Santana. At that point, Jason Giambi stepped in, took a couple balls and then yanked a single up the middle to bring around Brantley.
Rogers, who was acquired by the Blue Jays in a November trade that sent Yan Gomes and Mike Aviles to Cleveland, surrendered one run over six innings. He allowed four hits while issuing three walks and seven strikeouts.
"We had some chances early and we couldn't cash in," Francona said. "Masty made it hold up for most of the night."
The Indians have lost six of their last eight games.
Mark Emery is an associate reporter for MLB.com. This story was not subject to the approval of Major League Baseball or its clubs.