Torres proving to be a dominant force in 'pen
Torres proving to be a dominant force in 'pen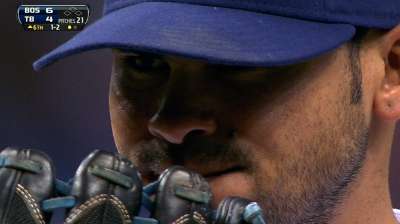 ST. PETERSBURG -- Alex Torres has become the next great thing in the Rays' bullpen.
"He's turning into some kind of relief pitcher right now," Rays manager Joe Maddon said.
Since Torres' last call-up from Triple-A Durham on June 1, he leads all American League relievers (minimum of 15 innings pitched) with a 0.42 ERA and .085 opposing average. During that span, he also ranks second among all Major League relievers with 30 strikeouts, trailing only Kansas City's Greg Holland (34).
When Maddon was asked if Torres was evolving into a J.P. Howell-type role, he answered: "He already has, honestly."
Maddon then elaborated.
"He gets out righties and lefties, you don't care how hot the situation is, you feel very comfortable bringing him into that moment," Maddon said. "We've brought him in with bases loaded against Detroit, he got through that, we brought him in another time with the bases loaded, and it's the thick part of the batting order. He's kind of been like [Howell] already."
Maddon cited the left-hander's calmness as a contributing factor for his success this season.
"He believes he belongs here," Maddon said. "And he's pitching like that. … You feel good about him in that moment."
Jose Lobaton has caught Torres a lot, whether at Triple-A Durham or with the Rays, and he noted the biggest reason for his success is his ability to throw strikes.
"That's the best thing I've seen from him," Lobaton said. "He's throwing strikes. He's throwing his changeup for strikes and throwing it to lefties. He's not scared to throw the fastball. A good thing he is doing right now is he's mixing his pitches.
"He gets ahead in the count. He's got a great changeup that he can throw at any time in the count. You got a guy like that, you feel like you can have him throw any pitch, any time. He's working the way you want to see a guy on the mound. He's ready all the time. You can see it on his face."
Bill Chastain is a reporter for MLB.com. This story was not subject to the approval of Major League Baseball or its clubs.