Twins hoping hard hits start to fall their way
Twins hoping hard hits start to fall their way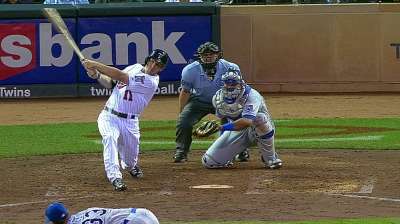 ST. PETERSBURG -- Twins manager Ron Gardenhire tweaked his lineup a bit Wednesday, taking out Chris Parmelee and Brian Dozier while plugging in Clete Thomas and Jamey Carroll atop the order. He dropped Ryan Doumit to the five-hole, leaving Joe Mauer and Justin Morneau in the third and fourth spots.
It's been a frustrating stretch for Minnesota lately, and Gardenhire hoped the changes would spark his club to a much-needed win. But it's all the more vexing considering the fact that, despite two losses at Tropicana Field to start their series with the Rays, the Twins have actually hit the ball fairly hard.
"I think that's probably the toughest part about it," Gardenhire said. "You know you're scuffling along when you're not scoring runs and everything, and then you have a night where you seem to be on about every pitch that the guy throws in the first three or four innings and you've still got nothing to show for it."
Minnesota's hitters were taking good swings against Tampa Bay's Roberto Hernandez and Chris Archer, with little to show for it. The Twins picked up 10 hits Monday, but went just 2-for-12 with runners in scoring position, and their best opportunity came in a 4-for-4 fourth inning in which they scored only two runs and committed two costly outs on the basepaths.
On Tuesday, the Twins had some line drives and well-hit balls against Archer, but almost all were hit right at some well-placed Rays defenders.
"If one of those falls, we score some runs and it's a different ballgame," Trevor Plouffe said Tuesday night.
Instead, they recorded five hits Tuesday -- only three before the ninth inning -- and went 0-for-6 with runners in scoring position.
"That's when it gets frustrating," Gardenhire said. "You can see that on their faces, and all we can do is keep yelling, 'Keep swinging, boys. He's gonna make a mistake. If he makes a mistake, keep banging it.' That's kind of what we went through last night. It works out like that sometimes, and other times they fall.
"The game's like that. If you've played it long enough, you've seen it. I've been through stretches like this. But right now, there's a lot of frustration in this clubhouse. They're working hard, and that's what we've got to keep doing."
Adam Berry is a reporter for MLB.com. Follow him on Twitter at @adamdberry. This story was not subject to the approval of Major League Baseball or its clubs.