Lucky 13: Zobrist's walk-off single leads Rays in extras
Lucky 13: Zobrist's walk-off single leads Rays in extras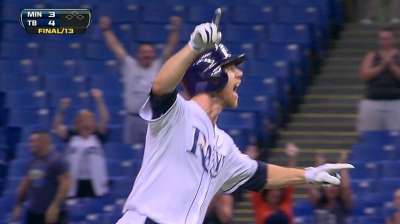 ST. PETERSBURG -- As Wednesday's game at Tropicana Field wore on into extra innings, there was a sense this could be the night the Rays' magic ran out, the night their "swarming" offense failed to launch.
Tampa Bay put at least one man on base in innings nine through 12, but couldn't capitalize. Finally, just before the clock struck midnight in the 13th, Ben Zobrist delivered with a single to right field, pushing the Rays to a 4-3 win over the Twins.
Yunel Escobar got things started in the 13th with a one-out single before he advanced to second on a pickoff attempt that went past the first baseman. After Luke Scott worked a walk, Zobrist -- recently named the Rays only All Star -- delivered.
"I was fortunate that he left a curveball up in the zone where I could get my hands through it," Zobrist said after the game. "We're glad we got the win, but we're certainly glad it's over."
Tampa Bay has now won seven straight games and 11 of their last 12. According to manager Joe Maddon, the key to the streak, at least offensively, manifested itself in the game's final inning one at-bat prior to Zobrist's.
Scott saw seven pitches in his final at-bat, fouling off two of them and checking his swing twice, leading to his third walk of the evening. Wednesday marked Scott's first three-walk game since May 2011.
"I've told hitters this for years, when you're walking, you're hitting," Maddon said. "I'm not saying to look for walks. The point is to not expand your strike zone. All of a sudden, he looks locked in because he isn't stretching for strikes. That was the big play of the night."
Rays pitchers dealt 19 strikeouts to set a club record at Tropicana Field. The two teams combined for 35 strikeouts, also a Rays' record.
"We chased a lot of pitches," Twins manager Ron Gardenhire said. "They figured it out pretty quick that we were swinging at two strikes in the dirt. ... We're swinging like mad men. They've got some pretty good pitchers over there that can throw some nasty stuff. But you've still got to make them throw it in the zone."
Kelly Johnson evened the score in the sixth after James Loney started the inning with a single. Wil Myers lined out to right field, but Johnson drove home Loney with a home run to right, his 13th of the season. Twins starter Kevin Correia was removed from the game following Johnson's homer.
Pedro Florimon's two-run home run to right field off Rays starter Jeremy Hellickson in the third gave the Twins their initial lead.
The Twins added to their lead in the fifth when Aaron Hicks led off the inning with a double. He was moved over by Florimon's groundout to first base and scored on Clete Thomas' bloop single to shallow left field.
Hellickson exited after the sixth, giving way to left-hander Jake McGee, who struck out the side in the seventh.
After allowing the first two men to reach in the ninth, Rays closer Fernando Rodney retired the next three Twins in order.
Jamey Wright entered the game in the 10th for Tampa Bay and Evan Longoria killed a potential rally when he snatched Florimon's line drive with a leaping grab to make the second out. Longoria made a similar play to start the 13th inning.
Relievers Kyle Farnsworth and Cesar Ramos combined to finish the game for the Rays.
Johnson had a chance to win the game in the 10th when he launched a deep fly ball to center that looked to be over Hicks' head, but the Twins center fielder extended the game with an acrobatic catch at the wall.
The Rays will return to Tropicana Field less than 12 hours after leaving. Maddon said he will tinker significantly with the lineup as he used all but one reliever and every bench player. He even mentioned starting pitcher David Price was "already in the batting cage" preparing to pinch-hit.
"When you win a game like that, there's residual energy that carries you home and brings you back tomorrow morning," Maddon said. "When you lose a game like that, you have to go looking everywhere for that energy. It doesn't mean you're going to win the next day, but it definitely makes it easier to walk in the door."
Sam Strong is an associate reporter for MLB.com. This story was not subject to the approval of Major League Baseball or its clubs.