Maldonado keeps Peralta in check on mound
Maldonado keeps Peralta in check on mound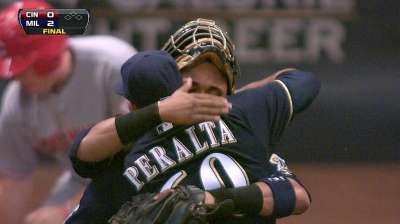 MILWAUKEE -- Who threw harder Tuesday night on the way to the Brewers' first complete game in two and a half years? Wily Peralta, the right-hander who was still touching 97 mph in the ninth inning of his three-hit shutout against the Reds, or his catcher, Martin Maldonado?
Surely it was Peralta, Maldonado answered with a smile Wednesday morning. But on four or five occasions, the strong-armed Maldonado fired a fastball back to his pitcher on the mound.
He explained.
"I talked to him about having a better rhythm [on Tuesday] at the beginning of the game, and I actually throw hard when I want him to wake up," Maldonado said. "He'll make a bad pitch, [and] that's when I throw hard back, to let him know he can be better than that."
It has been happening less of late. Peralta has a 1.03 ERA over his last four starts, including a no-decision at Washington on July 2 in which he dueled Stephen Strasburg before exiting in the sixth inning with a left hamstring strain. The Brewers gave Peralta an extra two days of rest before Tuesday's gem as a precaution.
Maldonado said Peralta got better as the game progressed because he began to command a slider that caused trouble early. The pair executed 113 pitches in the sort of outing Maldonado sees more of in Peralta's future.
"I think he'll strike out more than he did last night," Maldonado said of Peralta's six strikeouts. "He's a young guy, and young guys don't always know how to have success. I think he has to have confidence in what he can do. My job is to get him through."
Maldonado has played a key role in helping Peralta contain the emotions that have gotten the best of him at times this season.
"He doesn't hide it much on the mound when he's mad," manager Ron Roenicke said. "I think when those things come up, and there weren't a lot of them [on Tuesday], but there were a few, Maldy can get him back."
Roenicke has tinkered with several different batterymates for Maldonado, the backup to regular catcher Jonathan Lucroy. Lately, the pairing of choice has been Peralta, a fellow Spanish speaker who worked with Maldonado in the Minor Leagues.
"It's a hard question for us, because when we try to match up certain catchers with pitchers, we try to figure out what the importance is," Roenicke said. "Whenever we sit 'Luc' against a left-handed starter, we don't feel good about that, just because he kills lefties. So we really have to weigh that.
"I think when a pitcher is pitching well, when he's on a roll, it doesn't matter as much, but trying to get in that roll, then if he's going to be more comfortable with Maldy, or if [Kyle] Lohse is going to be more comfortable with 'Luc,' then we do those things."
Adam McCalvy is a reporter for MLB.com. Read his blog, Brew Beat, and follow him on Twitter at @AdamMcCalvy. This story was not subject to the approval of Major League Baseball or its clubs.