Bullpen's effort in Monday's marathon a historic one
Bullpen's effort in Monday's marathon a historic one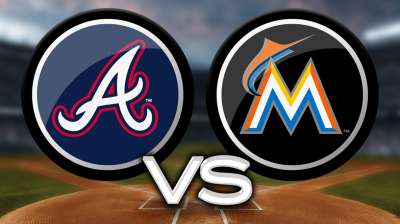 MIAMI -- Although the 14-inning marathon against the Braves on Monday ended in defeat, the Marlins took solace in a historic bullpen effort. Following a leadoff triple by Atlanta's Jason Heyward in the top of the sixth, Miami relievers retired 24 straight batters through the 13th inning.
"In our eyes, if we don't score, then we've got to hold them to not scoring, too," left-hander Dan Jennings said. "That's all we were trying to do. Just make sure they didn't score and keep the game close to a point where we could win it in the bottom half each inning. That's all we were really focused on in that time."
According to Stats Pass, only Oakland's bullpen has retired 24 batters in a row in one game since 1974, doing so nearly two years ago. Like the Marlins, the A's also fell short despite a herculean bullpen effort, losing to the Indians, 4-3, in 16 innings on Aug. 31, 2011, at Progressive Field in Cleveland.
Jennings said the bullpen hasn't reflected on its accomplishment much, instead focusing on staying sharp for the remainder of the Braves series after a busy opener. Every reliever except A.J. Ramos pitched during the historic streak.
Miami even optioned Chris Hatcher to Triple-A New Orleans and recalled lefty Duane Below from the Zephyrs after Monday's game in order to add a fresh arm.
"We're still focused on making sure we're ready for yesterday and ready for today," Jennings said Wednesday. "Because, obviously, with a slim bullpen, you do whatever you can to make sure mentally and physically you prepare yourself for the game."
Miami's streak ended when Hatcher issued a leadoff walk to Reed Johnson in the top of the 14th. Two more walks, four base hits and two fielding errors led to a six-run inning for the Braves, who escaped with a 7-1 victory despite ending up on the wrong side of pitching history.
Jennings, Ryan Webb, Chad Qualls, Steve Cishek and Mike Dunn mowed down 24 straight Atlanta batters, breaking the previous franchise record of 18 straight retired by the bullpen in a 5-4 win against the Brewers in 12 innings on July 6, 2005.
Qualls, Cishek and Dunn shouldered the brunt of the load, logging two innings each. Cishek and Dunn accounted for every strikeout during the stretch, fanning five batters between them.
Monday's effort was a strong showing from a Marlins bullpen that has seen a number of its arms improve in recent weeks. Should Miami's relievers go through a rough patch down the road, Jennings feels Monday's game could provide a confidence boost.
"Everybody's feeding off each other," Jennings said. "We watch one guy go out there and have success, and everybody wants to go and do the same thing. I guess you can say it's a springboard. It's absolutely a time for us to feed off each other."
Joe Frisaro is a reporter for MLB.com. He writes a blog, called The Fish Pond. Follow him on Twitter Share This