Heisey held out after getting plunked on arm
Heisey held out after getting plunked on arm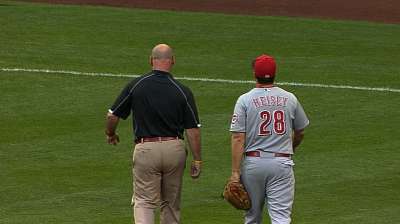 MILWAUKEE -- Reds left fielder Chris Heisey was wearing a long compression sleeve over his left arm Wednesday morning. One day after being hit above his elbow by a 95-mph fastball from Wily Peralta, Heisey was fortunate to not be wearing a cast.
Heisey had to leave the game after being drilled by Peralta in the top of the second inning. X-rays were negative, but he was out of the lineup on Wednesday.
"To be honest with you, it's feeling pretty good," Heisey said. "When I woke up this morning, I couldn't make a fist. There was a lot of swelling in my hand. They got a lot of that out. I can squeeze. I couldn't button my own shirt … but it's loosened up pretty good."
The timing of the injury was unfortunate considering Heisey has been one of the Reds' few hot hitters, batting .368 (7-for-19) with two homers in his last nine games since coming back from a hamstring injury he suffered at the end of April. But he expects to avoid the disabled list this time.
"The main reason I don't have the mobility is the swelling. Once we get that out, I should be all right," Heisey said. "Tomorrow or the next day, I can probably swing again. It's not broken, so once I can tolerate it, I will be back out there."
Xavier Paul replaced Heisey in left field, getting his first start since Friday. Paul, who pinch-hit the last two days, had been out with a sore right arm after hitting the wall in foul territory against the Mariners. He went 1-for-3 with a walk in Wednesday's 6-2 win over the Brewers.
Mark Sheldon is a reporter for MLB.com. Read his blog, Mark My Word, and follow him on Twitter @m_sheldon. This story was not subject to the approval of Major League Baseball or its clubs.