Hellweg again struggles with command, Crew falls
Hellweg again struggles with command, Crew falls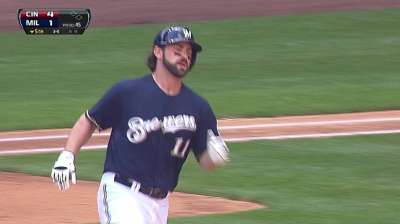 MILWAUKEE -- Johnny Hellweg's third Major League start followed the formula established in the first two: Lots of walks, lots of runs and little help from the defenders behind him.
Hellweg pitched a career-high 4 1/3 innings, but still allowed four runs, five more walks and hit a batter in a 6-2 loss to the Reds on Wednesday afternoon at Miller Park. It will be the big right-hander's last taste of the big leagues for a while, as the Brewers optioned him to Class A Wisconsin after the game so Hellweg could stay on schedule. They will send him to Triple-A Nashville at a later date unless a need arises in the Majors.
"I think he got a little overwhelmed," catcher Jonathan Lucroy said. "He needs to take this as a learning experience and realize that most of the time, he's one to two pitches [away from] being out of the inning."
Sean Halton hit his first Major League home run, but the Brewers missed a chance to sweep their National League Central rivals in the final home series before the All-Star break.
It was a somber departure for Hellweg, the hard-throwing 24-year-old who came from the Angels with shortstop Jean Segura and another pitching prospect in the Zack Greinke trade last July. Hellweg had a 1.64 ERA in his final seven Triple-A starts before rising to Milwaukee, where he found nothing but trouble.
In the first four appearances, including three starts, of his Major League career, Hellweg went 0-3 with a 10.97 ERA. He surrendered 20 runs (though only 13 were earned), 19 hits, 13 walks and a hit batter in 10 2/3 innings.
"I'm still confident, and I know what I can do," Hellweg said. "I didn't show it the last couple times out, but I think it is going to put more of a drive or a fire in me to come back up to do it right next time."
The Brewers sent Hellweg to Class A as a matter of logistics. The club wants him to remain on an every-five-day schedule to regain some rhythm, and both Triple-A Nashville's and Double-A Huntsville's schedules did not cooperate.
Whether he rejoins the Brewers after the break will be based on, "what we feel is best for Johnny and his development," Brewers manager Ron Roenicke said. "I think that he's getting better. I loved the third inning that he pitched. If he pitches like that, he's going to have a long career in the big leagues. He really pitched. He threw his breaking ball over, he threw changeups, he located his fastball.
"The other innings, he's fighting. He's behind in the count, he's fighting to survive, to make a real good pitch to get out of it. He's got the stuff that he can do it. He's still getting a lot of ground balls, and that's a huge advantage to be able to do that when you're behind in the count."
Trouble is, the Brewers have had some trouble converting those ground balls into outs, and on Wednesday, there was trouble with a fly ball, too. Fill-in left fielder Halton took a roundabout route to Shin-Soo Choo's ground-rule double leading off the game, and Choo scored on Brandon Phillips' RBI single to put Hellweg and the Brewers in an early hole.
The Brewers tied the game on Carlos Gomez's sacrifice fly in the bottom of the inning, but the Reds added single runs in the second, third and fifth, all charged to Hellweg, who walked at least one batter in each of those innings.
The defense again let Hellweg down in the fifth, failing to turn a double play when Jeff Bianchi's throw was wide of second base, pulling Rickie Weeks out of position to make a relay throw. Bianchi committed an error in the fourth, though Hellweg worked around it for his only scoreless inning.
Asked to explain why the defense seemed particularly porous in Hellweg's outings, Lucroy said, "If the momentum isn't going your way, that matters not just on offense, but on defense, too. When guys aren't pitching well, if the rhythm's bad, you're not on your toes. You have to speed the rhythm up."
The win went to Reds starter Mike Leake, who pitched into the ninth inning and improved to 6-2 over his last 11 starts. He was bailed out by an odd double play after walking the first two batters in the fourth inning. Weeks hit a one-hopper to shortstop and Carlos Gomez, the runner at second, said he thought Reds shortstop Zack Cozart caught the line drive. So Gomez retreated to the bag, then took off for third in confusion when Cozart flipped the ball to second to force the runner coming from first. Gomez was tagged out in a rundown.
"I should have just stayed," Gomez said. "They told me that later."
Suddenly back in control, Leake induced an infield popup from Yuniesky Betancourt and the Brewers' promising inning was over.
Leake allowed only two runs on four hits in 8 1/3 innings and had retired 13 batters in a row before Lucroy's ninth-inning bloop single knocked him out of the game. Aroldis Chapman fired 100-plus mph fastballs for the game's final two outs.
"It wasn't the best game I've pitched," Leake said. "They made me work and were aggressive against me. That worked to my advantage. I definitely made some pitches when I needed to, to get out of jams. They put some pressure on me."
Now the pressure is on Hellweg to pitch his way back to the Majors. Both Lucroy and Roenicke were emphatic: Hellweg will be back.
"I think he's definitely got the stuff to do it," Lucroy said. "It's just a matter of getting that momentum and getting a feel for his stuff, trying to figure out how to get ahead and fill-up the strike zone. The big leagues are a different animal, man."
Adam McCalvy is a reporter for MLB.com. Read his blog, Brew Beat, and follow him on Twitter at @AdamMcCalvy. This story was not subject to the approval of Major League Baseball or its clubs.