Soriano's two dingers lead homer-happy Cubs
Soriano's two dingers lead homer-happy Cubs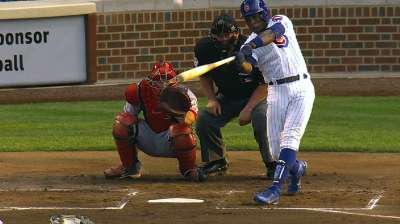 CHICAGO -- Travis Wood finally had both quality and quantity.
Anthony Rizzo and Alfonso Soriano hit back-to-back home runs, Soriano added another solo shot, Darwin Barney belted a three-run blast and Starlin Castro hit a solo homer to support Wood and lift the Cubs to a 7-2 Interleague victory over the Angels on Tuesday night.
"The 'Sori' show again continues," Cubs manager Dale Sveum said of his left fielder, who is batting .400 with eight homers and 17 RBIs in his past 11 games.
Soriano isn't playing like a 37-year-old.
"I want to hit every inning," Soriano said. "I feel comfortable and try to enjoy my time, because that's what I like to do. I like to play this game and love what I do."
Maybe the Cubs are in the wrong league. With the win, they improved to 13-6 against American League teams, matching their win total against the tough National League Central (13-26).
Wood gave up four hits over 6 2/3 innings, including a two-run homer by Albert Pujols in the seventh, No. 489 of his career.
"I'm surprised he only got one," Soriano said of Pujols. "With the wind and the player that he is, I'm surprised he only hit one. Travis Wood threw the ball very well."
Pujols also got the first hit off Wood when he singled with two outs in the first, hitting a ball to center that Julio Borbon dove for but missed. Pujols was thrown out at second trying to stretch his hit. Wood then retired the next 14 in a row before Joe Blanton dropped a single near the right-field line with two outs in the sixth.
It was Wood's 17th quality start, most in the Major Leagues, and he's the first Cubs pitcher to record that many before the All-Star break since Greg Maddux did so in 1988. Unfortunately for Wood, he doesn't have the wins to match.
"He can't pitch any better baseball," Sveum said of his lefty. "Besides throwing shutouts, you can't really pitch any better."
If anything, the Cubs are trying to keep him in check. In the sixth, Wood sprinted hard trying to beat a throw from shortstop on a routine grounder but was thrown out.
"His mentality just doesn't allow him to trot to first base," Sveum said of Wood, whom he has fondly called a "baseball rat."
Said Wood: "I can't help it. I don't have it in me -- you hit it, you run hard."
Sveum and Wood will sit down to talk about pitching in the All-Star Game. Wood, who will be the Cubs' sole representative, will have one more tuneup before the event on July 16 at Citi Field. Wood wraps up the first half on Sunday night against the Cardinals.
"I would like to pitch," Wood said. "The ultimate goal is for the season, for the Cubs. We'll talk it out with them."
Wood's NL teammates will appreciate his hustle.
"It's fun playing behind him," Barney said. "He elevates his cutter so well. Even with the wind blowing out, he wasn't afraid to do that. I know he wanted to finish [the seventh]."
The Cubs' five home runs were a season high, and the first time they've hit that many at Wrigley Field since Sept. 17, 2006, when they hit six against the Reds. And yes, the wind was blowing out.
Rizzo has been scuffling and entered the game 2-for-26 in his past seven games with one extra-base hit. He's been working on using his hands more, Sveum said.
"There's a lot of body involved in his swing right now," Sveum said. "We're trying to get him squared away and get him back to really using his hands and not so much body."
He got his mechanics right in the first when Rizzo launched a 2-2 pitch from Blanton into the right-field seats. Soriano, on the other hand, has been totally in sync recently and followed Rizzo with his first homer of the game for a 2-0 lead. It's the fourth time this season the Cubs have hit back-to-back home runs and second time Rizzo and Soriano have done so.
Castro made it 3-0 when he connected on his fifth home run with one out in the third. In the sixth, Dioner Navarro doubled and Blanton hit Nate Schierholtz with a pitch to set up Barney's homer. Blanton, who now has served up 22 home runs -- most in the Majors -- then exited.
"Obviously, the three-run [homer] hurts the most," Blanton said. "You can kind of live through solos and battle around everything else. Three-run homers kill you. But honestly, all of them. You never want to give up homers."
Soriano hit his second of the game with one out in the seventh, and now has 387 for sole possession of 58th on the all-time list. He also is tied with Derrek Lee for 11th on the Cubs' franchise list with 179.
"He's 37 years old, and to do what he's doing, he's carrying the ballclub at a time when we needed it," Sveum said. "His character and his work ethic and all the money he's made, it's like he's a rookie out there."
Soriano said hitting coach James Rowson is getting a better feel for his swing, and it shows. The veteran outfielder is setting a strong example for the young Cubs.
"I always say we have too much talent in this clubhouse, and sometimes these kids put too much pressure on themselves," Soriano said. "They have to learn it's one day at a time, it's a long season. They have to believe in themselves. They have the talent."
Carrie Muskat is a reporter for MLB.com. She writes a blog, Muskat Ramblings, and you can follow her on Twitter @CarrieMuskat. This story was not subject to the approval of Major League Baseball or its clubs.