Norris runs into trouble against former division foe
Norris runs into trouble against former division foe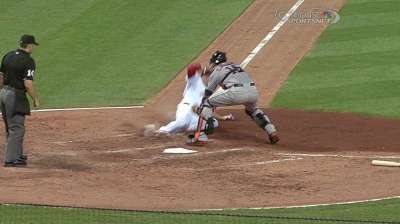 ST. LOUIS -- Bud Norris has faced the Cardinals more than any other team in the Majors, traditionally owning the Redbirds with an 8-5 record and a 2.72 ERA in 15 career games. But it was his St. Louis counterpart, with an even more impressive track record against his opponent, who shined Tuesday.
Cardinals ace Adam Wainwright, who entered the game 12-1 with a 1.82 ERA against former division foe Houston, held the Astros to one run on five hits and a walk, as Houston fell, 9-5, in front of 43,836 at Busch Stadium.
"He's the front-line pitcher in this league," said Astros manager Bo Porter, "and if you're going to get him, you better get him early, because once he gets rolling, he gets the curveball working, he's a tough customer."
Wainwright struck out nine batters and induced 11 groundouts in seven innings. The Astros' lone run against Wainwright came in the sixth, when Brett Wallace led off with a double and J.D. Martinez singled into right-center field, pushing Wallace across.
"He's just very aggressive in the zone; comes right at you and he just knows what he's doing up there," Wallace said. "He's one of the best in the business for a reason. He's always a tough matchup."
The Astros did not have an extended threat until the ninth, when they scored a run off Cardinals reliever Randy Choate and three more off Michael Blazek. It forced St. Louis to call on closer Edward Mujica, who struck out Martinez to end the game.
"Our guys are going to fight all the way until the end," Porter said. "And we forced their closer into a game in which the ninth inning started 9-1, which is definitely a tribute to the guys in that room. They're not going to quit, they're going to battle all the way to the end."
The Cardinals' bats steadily knocked around Norris for seven runs on 11 hits. Norris walked one batter, struck out five and hit another with a pitch in his worst start against the Cardinals. Four of the seven runs against Norris came with two outs.
"Today wasn't my day," Norris said. "I made some good pitches, I made some bad pitches. They hit good ones and they hit bad ones. That's a good ballclub over there. They know what they're doing."
After surrendering more than four earned runs just twice this season, Norris tied his season and career high with seven Tuesday.
"I think the key to him is when we can lay off the slider and make him throw the ball out over the plate, that's when we beat him," Wainwright said. "Today was a real good example of that. All the way through our lineup, we did a real good job of laying off some of his tough pitches and making him throw it out over the plate. And when he did, putting good swings on it and doing a little damage with it."
Norris tweaked his left ankle in the second on a pitch to Matt Carpenter and came up limping when he got the first hit off Wainwright in the third.
"I tried to battle through it, but it's a little sore, so I just got to go from there," Norris said.
The right-hander hit catcher Yadier Molina with a pitch in the fifth and Wainwright returned the favor, All-Star catcher for All-Star catcher, plunking Jason Castro with a pitch the next frame with an open base and a 7-0 lead, prompting home-plate umpire and crew chief Mark Wegner to issue a warning to both dugouts.
Needing 92 pitches to survive five innings, Norris gave way to Lucas Harrell for the final three frames. But the damage didn't end there. Making his first relief appearance since he was moved from the rotation to the bullpen this weekend, Harrell immediately gave up a double to Carpenter. After retiring Carlos Beltran, Harrell hit Matt Holliday, surrendered an RBI single to Allen Craig and intentionally walked Molina before inducing a double play. Craig drove in another run off Harrell in the eighth.
"If I don't give up those two runs -- the guys scored back there in the ninth -- we would have been in the game a little bit closer," Harrell said. "It's a situation when you go out there and you're called out of the bullpen, you can't give up runs."
With the loss, the Astros have now dropped 11 of their past 14 games and have fallen even further into last place in the American League West.
"[Norris] ran into a good hitting ballclub," Porter said. "Sometimes you just got to tip your cap. I think it was more about the Cardinals than it was about anything else. They put some good swings on the ball and did a good job once they got them into scoring position as well."
Chad Thornburg is an associate reporter for MLB.com. This story was not subject to the approval of Major League Baseball or its clubs.