Shields outduels CC for much-needed victory
Shields outduels CC for much-needed victory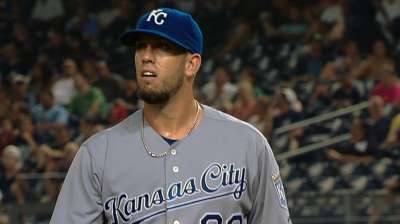 NEW YORK -- Forget the moral victories. James Shields was hungry for an actual win.
The Royals have had trouble scoring for Shields, and as a result, he doesn't win nearly as often as he should. Only one half of that equation rang true for Shields on Tuesday night, when he held the Yankees to one run in seven innings and wound up with a rare decision in a 3-1 victory.
Shields went into Tuesday's game with the second-lowest run support (3.38 runs per nine innings) among American League pitchers, and he'd earned just one win in his previous 12 starts despite holding the opposition to two earned runs or fewer eight times in that span.
The amazing part? Kansas City has now won eight straight games in which Shields starts. The right-hander has six no-decisions in that span, but he's earned plenty of respect within the clubhouse. Manager Ned Yost said Tuesday that his entire rotation feeds off the energy provided by Shields.
"Forget the record. The record's got nothing to do with the way he's pitched," said Yost. "Look at his ERA. Look at his innings pitched. He's been as good as you'd hope a No. 1 starter can be for us. We have just not supported him to this point offensively. But we keep thinking that our offense is trending upwards, and I think we're going to support him to a much higher degree in the second half."
If they do, the Royals may finally get on a roll. Kansas City (43-44) has won three of its last four games and rose to within one game of .500 for the first time since June 18 on Tuesday. The Royals were at .500 for one day on June 17, but prior to that, they haven't had a break-even record since May 21.
Shields (4-6) started slow Tuesday, putting the rest of his start in stark contrast. The veteran gave up hits to the game's first three batters and trailed 1-0 in the first inning, but he escaped a bases-loaded jam and retired 18 of the next 19 batters he faced from the second through the seventh innings.
"One of the things I'm really most happy about tonight is the way [Lorenzo] Cain played defense," said Shields, speaking of Kansas City's center fielder. "Hats off to him. He made three unbelievable dives. He ran two balls down in the gap, and he did a great job tonight. He saved some runs."
The Royals, meanwhile, were having trouble establishing their own offense. Kansas City was held to one hit and one runner in scoring position in the first five innings by Yankees starter CC Sabathia, but the scales began to turn in the sixth inning on a solo home run by right fielder David Lough.
Lough pounded a shot into the second deck in right field to tie the game, and the Royals went ahead for good in the seventh inning. Cleanup man Billy Butler drilled a homer over the left-field fence, and Kansas City added another run on an Eric Hosmer double in the eighth.
"He definitely was rolling," said Lough of Sabathia before his home run. "I think that was a momentum-changer for us, and Billy was able to hit another solo [homer] to take the lead, 2-1, for us. Shields did a great job, settled in real nice and had a great game, which is what he usually does."
And if Shields is usually on target, closer Greg Holland has been nearly always effective for the Royals. Holland, who struck out three batters to earn a save in the series opener, came back again to close out the Yankees in the second game. Holland has now converted 15 straight save chances.
Shields, acquired from Tampa Bay in the offseason along with Wade Davis in the trade that sent prospect Wil Myers to the Rays, earned his first win at Yankee Stadium since 2010. Shields, for his career, has notched a 3-9 record with a 4.98 ERA in 14 road starts against the Yankees.
But again, the Royals insist that Shields has meant more than just his statistics. He's helped steady a staff that struggled last season, and Yost said his influence has been incalculable.
"His presence has brought a huge effect to our starting rotation and to our team," said Yost. "He's a tremendous competitor and he's a leader in every sense of the word. And in order to be a leader, you have to have tremendous energy. He has it. Every single day, he continues to push, to prod, to encourage and to develop a winning attitude inside that locker room."
The Royals are 2-3 against the Yankees (48-42) this season, and they're 21-22 on the road. Despite its slow start, Kansas City is five games out of first place in the American League Central. The All-Star break is just five games away, and the Royals feel like they're gathering momentum.
"We've been playing some really good baseball lately," said Shields. "We've been staying as consistent as we can after the May that we had. We had a great June and we've continued it here in July. Hopefully, we continue what we're doing. We've been pitching the ball well all season long. We've been consistent with that and our hitters have been coming around. When you get some good timely hitting and some defense like we had tonight, we're going to win a lot of ballgames."
Spencer Fordin is a reporter for MLB.com. This story was not subject to the approval of Major League Baseball or its clubs.