Mattingly discusses Puig's reluctance with media
Mattingly discusses Puig's reluctance with media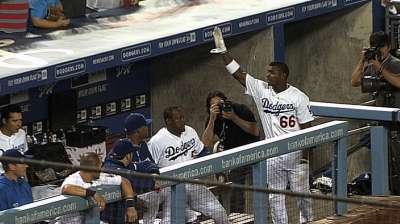 PHOENIX -- Dodgers manager Don Mattingly on Tuesday defended rookie outfielder Yasiel Puig, whose reluctance with the media is drawing increasing scrutiny now that he's an All-Star Final Vote candidate.
"He's doing the best he can," Mattingly said of Puig, who has refused virtually all interview requests, will not make himself available before games and is available after games only occasionally. "It's been a big adjustment for him. It's a lot for him to handle.
"He wants to make sure his concentration is on baseball, and for us, it's the right thing to keep his priorities in line. In a way, there are certain things that come with it, at least the bare minimum, he'll talk after games."
Mattingly said Puig should be given some slack because he's 22 "with the world on a string."
"I've seen other guys not at their locker," he said. "He's not the first guy. We'd all like him to be a stand-up guy both ways. It's like him on the field, he gets caught stealing or misses the cutoff, they are areas to talk about and his teammates will help him along to handle it professionally."
Mattingly was asked if the club is concerned that Puig will be characterized by the media as a bad guy, as generally happens when a player doesn't speak to reporters.
"He's a good guy," replied Mattingly. "Yasiel is a good kid. It's a lot for him to handle. You've got to look at both sides. He just wants to play. It's not fair to throw all this at him and say, 'Handle it perfectly.' You'd like the guy to handle everything that comes with it. You have to be patient. At some point, he's not a kid and he'll have to make his own decisions."
Ken Gurnick is a reporter for MLB.com. This story was not subject to the approval of Major League Baseball or its clubs.