Dyson just scratching the surface with Royals
Dyson just scratching the surface with Royals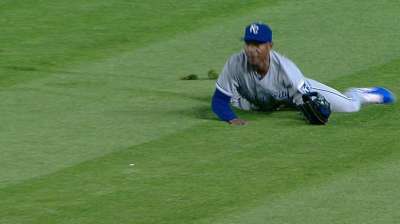 NEW YORK -- Lorenzo Cain has been Kansas City's main contributor in center field this season, but manager Ned Yost knows he has an able reserve in Jarrod Dyson. Dyson, 28 years old, covers ground in center field as well as Cain and is far and away the Royals' fastest runner.
But he's also a year older than Cain, and Yost wants to let both players develop at their own pace. Kansas City could play Cain and Dyson as a strict platoon, but Yost said that the team makes its decision on who will play center field on a day-to-day basis by reading the matchups.
Dyson, a left-handed hitter, has already carved a footnote for himself by being the rare 50th-round draftee to make it to the Major Leagues. The Mississippi native is batting .257 with two home runs this year after not homering at all last year, and Yost thinks Dyson is just scratching the surface.
He's generated a little bit of power, but for him to take advantage of his full toolset, he needs to use his speed," said Yost. "Line drives and keeping the ball on the ground will be important for him."
Dyson signed with the Royals right out of high school and batted .276 in his climb through the Minor Leagues, and he's always best distinguished himself with his speed. Dyson stole 181 bases in 417 Minor League games, and he was caught attempting to steal just 35 times.
That ability has translated to the Majors, where Dyson has stolen 62-of-71 bases successfully. Yost said that Dyson still steals bases with pure speed as opposed to technique. Dyson stole 30 bases last year in 102 games, and he's gone 12-for-14 in steal attempts in his first 31 games this year.
"He's come a long way in the last two years," said Yost." He's working really hard to understand what it's going to take for him to be successful. He's got pure speed, and he's got all the attributes of a good basestealer. He can read keys, but the most important thing that he possesses is he's not afraid. He can steal a tough base when the opposition knows he's stealing."
Spencer Fordin is a reporter for MLB.com. This story was not subject to the approval of Major League Baseball or its clubs.