Hot-hitting Heisey leaves game with elbow injury
Hot-hitting Heisey leaves game with elbow injury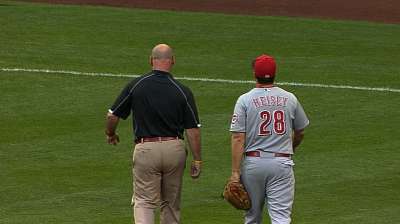 MILWAUKEE -- Just when Reds left fielder Chris Heisey was heating up his productivity, an injury knocked him out of Tuesday's game vs. the Brewers.
Heisey was hit above his left elbow by a 2-2 pitch from Wily Peralta in the second inning. It was a 95 mph fastball that left a visible welt on Heisey's arm. He appeared to be in pain as he went out to left field for the bottom half of the inning before being pulled by head trainer Paul Lessard and manager Dusty Baker. Derrick Robinson replaced Heisey in left field.
X-rays on Heisey's elbow came back negative. Heisey was also hit by a pitch in the eighth inning of Monday's game.
"He's going to be sore from getting hit twice in the same arm," Baker said. "Anybody that's been hit on that elbow, that bone, the feeling didn't come back. That's why we took him out. It's a tough place to get hit. There is no muscle. I don't think he's playing tomorrow."
Since coming off of the disabled list after missing nearly two months with a strained right hamstring, Heisey was batting .368 (7-for-19) with two homers in nine games, including a solo homer on Monday vs. the Brewers in a 4-3 loss.
"Maybe that time off helped him," Baker said before the game. "He was struggling when he left -- mentally and physically. It starts mentally most of the time. You keep trying to figure things out."
Heisey, who was playing regularly when Ryan Ludwick went down with a shoulder injury on Opening Day, was batting .173 with two home runs and five RBIs in 23 games before going on the DL. Xavier Paul and Robinson played well in place of both Heisey and Ludwick, but have tailed off lately. Paul has been bothered by a sore right arm after hitting the wall trying to make a catch on Friday.
Baker wanted Heisey's pop in the lineup for a Reds team that's had trouble scoring lately.
"Everybody has had a chance to play out there," Baker said. "Actually, Heisey had the first chance. It's rare you get two chances to play this much. The other guys are struggling. They've been exposed a little bit playing every day."
Mark Sheldon is a reporter for MLB.com. Read his blog, Mark My Word, and follow him on Twitter @m_sheldon. This story was not subject to the approval of Major League Baseball or its clubs.