Both Reds catchers dealing with injuries
Both Reds catchers dealing with injuries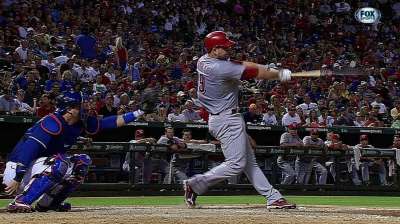 MILWAUKEE -- The sore left wrist bothering Reds catcher Ryan Hanigan wasn't much better after he sat out on Monday, but he was in the starting lineup vs. the Brewers on Tuesday.
That's because the team's other catcher, Devin Mesoraco, was still dealing with back spasms.
"It's kind of the worst of the two," Reds manager Dusty Baker said of Mesoraco.
Mesoraco played the entire game in Monday's 4-3 loss to the Brewers, but looked to be in pain throughout the game.
"It definitely could be better," Mesoraco said on Tuesday. "It's better than it was when I first did it, but it's a touch worse than it was yesterday. Going into the game, I thought I was OK. It tightened up."
At one point in the eighth inning, Mesoraco visited reliever J.J. Hoover at the mound. The visit was as much for himself as the pitcher.
"He thought one pitch was possibly a strike and I needed some time too," Mesoraco said. "That last inning, it was really barking quite a bit. I went out there just to take a little break and calm him down just a touch."
There is a chance one of the two catchers could wind up on the disabled list.
"I don't know," Baker said. "We're just kind of waiting to see if one of them is better than the other in the next couple of days. It kind of puts us in a bad situation. There are no answers."
Mesoraco didn't think he would have to go on the DL.
"If they need me, I think I can play," Mesoraco said. "It's not an injury. It's something I need a couple of days to get over it and it will be OK. I can't go out there, really mess it up and be out for a while. It's something you have to deal with if it comes to it."
The Reds currently have no other catchers on their 40-man roster, but Corky Miller and Nevin Ashley are at Triple-A Louisville. A familiar name, Ramon Hernandez, was released on Tuesday by the Blue Jays Triple-A Buffalo affiliate.
Hernandez, who was the Reds' catcher from 2009-11, batted .208 in 17 big league games this season for the Dodgers. He was released June 22 and signed by Toronto on June 29. He batted .105 in five games for Buffalo.
Jack Hannahan, who started at third base on Tuesday, was the emergency catcher for the Reds.
"That's why I had him warming up the pitcher yesterday," Baker said. "He might be a second catcher."
Mark Sheldon is a reporter for MLB.com. Read his blog, Mark My Word, and follow him on Twitter @m_sheldon. This story was not subject to the approval of Major League Baseball or its clubs.