Behind five homers, Red Sox end three-game skid
Behind five homers, Red Sox end three-game skid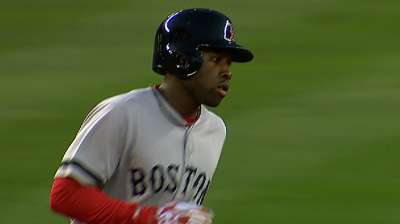 SEATTLE -- With the American League's winningest team on the verge of a four-game losing streak, the Red Sox erupted for 16 hits, beating the Mariners, 11-8, on Tuesday night at Safeco Field to tie the four-game series at one win apiece.
The Red Sox overcame an early 5-1 deficit by scoring in five different innings while the bullpen held together just long enough to get the job done.
No. 4 prospect Allen Webster got shelled in his sixth career start, allowing seven of the first 11 batters he faced on base. He gave up seven runs in just 2 1/3 innings of work, his second shortest outing of the season.
"Didn't really have much going at all, just fell behind," Webster said. "They made me pay and they jumped on my fastball early. I'm glad the team stepped up and helped me out a lot and came through with the win."
Kendrys Morales fired the first volley, a two-run homer in the first inning to score Nick Franklin. After David Ortiz opened the second with a homer to cut Seattle's lead to a run, rookie Brad Miller made it a 5-1 ballgame with a bases-clearing double.
Things were just getting started at a ballpark that is notoriously hard on hitters. After Shane Victorino led off the third with a single, Dustin Pedroia and Mike Napoli sandwiched a pair of two-run home runs around an Ortiz double to tie the game at five.
Jose Iglesias kept the inning alive by making it to first after a wild pitch, which allowed Boston to take the lead on Brock Holt's sacrifice fly to right that scored Jarrod Saltalamacchia.
The Mariners' Hisashi Iwakuma also struggled in his first start since being selected to his first All-Star Game. The Japanese righty lasted three innings, giving up six runs on eight hits.
"For the most part, I was missing location-wise, catching too much of the fat part of the plate, and that was the main issue today," Iwakuma said through translator Antony Suzuki.
Morales hit a second homer to lead off the third, and Kyle Seager followed with a single. Justin Smoak hit a line drive to right field that nearly dropped in for a hit and Webster's night was done.
Playing with only 11 pitchers in order to get some outfield depth, Boston had a tentative bullpen situation all night long. After Webster exited the game, long reliever Alfredo Aceves was only able to finish the third inning before leaving in pain.
"Where we were in the lineup, it felt like we needed to show a left-hander to slow them down," said manager John Farrell. "There was a feeling of tightness on his left side, but … he wanted to continue. But I was just trying to slow the left-handers down."
Rookie Jackie Bradley Jr. made his presence felt just hours after getting recalled from Triple-A Pawtucket. After a strikeout and a groundout in his first two at-bats, the 23-year-old gave the Red Sox an 8-7 lead with a go-ahead homer in the fifth inning off Blake Beavan. Boston added three more in the eighth to put the game out of reach.
"I just wanted to see something up," Bradley said. "He was keeping the ball mostly down and doing really well placing the slider, and I happened to see it up and put a good swing on it."
On a night where offense was the name of the game, Ortiz still stood out. With his son D'Angelo watching from the stands, Ortiz went 4-for-5 with a home run, a pair of doubles and a single. The single gave him 1,688 career hits, tying Harold Baines for the most by a designated hitter.
"It's a good accomplishment, but I'm not really thinking about it right now," Ortiz said. "I'm just trying to continue being successful and trying to provide some good things for this ballclub."
Craig Breslow gave a yeoman's effort, throwing 43 pitches and taking the Red Sox into the sixth. After 2 1/3 scoreless innings, Andrew Bailey relieved Breslow after he gave up a double to Miller.
Bailey would allow just one hit over 1 2/3 shutout frames, Junichi Tazawa allowed one run in the eighth and then Final Vote candidate Koji Uehara pitched a scoreless ninth to notch his sixth save.
Jacob Thorpe is an associate reporter for MLB.com. This story was not subject to the approval of Major League Baseball or its clubs.