Harrell allows runs in first appearance out of 'pen
Harrell allows runs in first appearance out of 'pen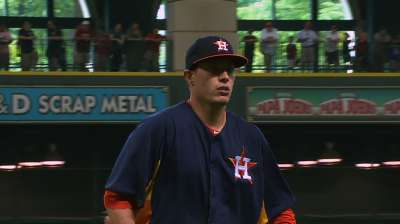 ST. LOUIS -- Just four days after his last start, Lucas Harrell found himself back on the mound, but entering in an unfamiliar situation.
Harrell, who said he was "caught off guard" by a move to the bullpen this weekend, made his first relief appearance Tuesday, replacing starter Bud Norris in the sixth inning of a 9-5 loss to the Cardinals.
Harrell pitched three innings, surrendering two earned runs on four hits, two walks -- one intentional -- and hit a batter.
"It was different," said Harrell, who entered with the Astros trailing, 7-0. "I think it's something with a little bit of time, I think I can get better at."
While manager Bo Porter said the Astros intend to "play it by ear" using Harrell out of the 'pen, the right-hander's experience as a starter allows the club flexibility to use him as a long reliever, a spot starter, or for a crucial out if the Astros are in a bind.
"If we have a starter get in trouble early, we can bring him in and he can give us length," Porter said. "If we get deep into the game and it's a situation where we need a ground ball, he's definitely a guy we know we can turn to and come in and get us out of a jam."
Harrell was 5-9 with a 5.04 ERA in 19 starts and has been inconsistent of late. He leads the American League with 55 walks, but is tied for second in baseball with 10 starts in which he allowed one earned run or less, matching Stephen Strasburg, Jeff Locke and Clayton Kershaw, and trailing Matt Harvey by only one game.
Harrell's last relief appearance was in the last game of 2011, also against the Cardinals.
"I got to pitch better or I'm not going to be here," Harrell said. "It's just the name of the game. It's life. It's one of those things where if I don't figure it out and start throwing the ball better, I won't be here anymore."
Harrell said before the game that he hadn't been told how he might be used out of the 'pen or given a reason for the move. But the 28-year-old righty still believes he can prove himself as a big league starter.
"I think what I did last year and then what I've done this year, I still feel like it shows that I can start," Harrell said. "It's just been one of those things where you have to throw strikes and you've got to be consistent. I felt like I was consistent there for a while and then the last couple starts weren't as good as I wanted them to be. But I feel like I still have a lot to offer as a starter."
Chad Thornburg is an associate reporter for MLB.com. This story was not subject to the approval of Major League Baseball or its clubs.