Work with Molina's former mentor benefits Castro
Work with Molina's former mentor benefits Castro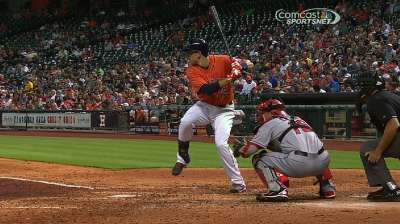 ST. LOUIS -- Jason Castro has never met Yadier Molina, but the Cardinals' catcher has played a role in shaping Castro into a fellow All-Star backstop.
Castro has worked closely this season with new catching instructor Jeff Murphy, who spent the last 12 seasons with the Cardinals, including the first nine years of Molina's big league career.
"We did a lot of work in spring and he's definitely helped me a tremendous amount, kind of just refining some of the catching skills and things that worked for Yadi," Castro said. "He's been a huge asset for the catchers in this organization."
Under Murphy's tutelage, Castro is having the best season of his career. He was selected to his first All-Star Game on Saturday and punctuated it with a go-ahead three-run homer just a few hours later.
The Astros are playing in St. Louis for the first time as members of the American League, and although Houston only plays its former division foe four times this season, Castro still admires Molina from afar.
"That guys is unbelievable. To be able to catch every day like he does and still put up consistently some of the best numbers offensively in the National League, he's definitely someone that any catcher can look up to and try to learn from," Castro said. "Having played in the NL Central for a few years, definitely got to watch him on a closer basis. Now we only play him a couple times a year, but still try to take advantage of that."
Chad Thornburg is an associate reporter for MLB.com. This story was not subject to the approval of Major League Baseball or its clubs.