Cards recall third catcher Johnson from Triple-A
Cards recall third catcher Johnson from Triple-A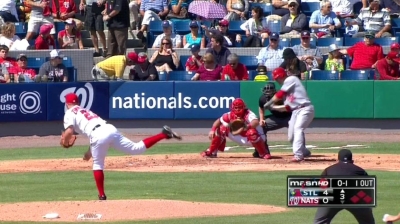 ST. LOUIS -- Rob Johnson was walking back from breakfast early Sunday morning when he spotted Memphis manager Ron "Pop" Warner on the street. They exchanged pleasantries before Warner dropped some unexpected news during the unplanned encounter.
The Cardinals wanted Johnson in St. Louis.
A day later, after making the drive from Memphis to Busch Stadium, Johnson described his first call-up this season as something that "kind of caught me off guard, for sure." With a roster spot open after Ty Wigginton's release and the Cardinals wanting to tread carefully with Yadier Molina's tender right knee, the need for a third catcher presented itself.
Johnson, who will wear No. 32, was added to the Cardinals' 40- and 25-man rosters prior to Tuesday's game against Houston.
"I've never been on a team that's in first place in the big leagues," said Johnson, now with his fourth organization. "I'm excited to be here and to help contribute any way I can. You never take anything in this game, especially the big leagues, for granted. And you learn that when you play in the Minor Leagues for a half a season. Again, I'm really excited to be here. I didn't expect it at all. But now that I'm here, I'm locked in and ready to go."
Having Johnson on the roster gives the Cardinals a backup for Tony Cruz on days when the Cardinals want to keep Molina out of the lineup. It also allows manager Mike Matheny the opportunity to use one of his non-starting catchers as a pinch-hitter without exposing the club in case of injury.
How long the Cardinals will carry three catcher remains undetermined. The biggest factor in Johnson's stay will likely be Molina's health. If Molina comes out of the All-Star break feeling confident with his knees' health, the Cardinals may consider swapping Johnson for a more versatile position player in the Minors.
"It's hard to imagine carrying three catchers for an extended period, but we are going to give Mr. Johnson an opportunity, see what he can do, and hopefully he can fit in to some degree," general manager John Mozeliak said. "But he earned a shot up here by what he was doing down in Memphis. He was a great mentor to a lot of those young pitchers down there, and it's nice that he could be rewarded."
Johnson, 30, hit .236 in 59 games with Memphis. More important, the Cardinals viewed his experience as an asset to all the young, developing pitchers with whom Johnson worked.
"I take a lot of pride in that," Johnson said. "I take a lot of pride in game-calling, and what I try to do behind the plate and getting on the same page as pitchers. It's been a lot of fun. A lot of guys have been very receptive. It helps me, too, because it sparks an old guy like myself with these 21-year-olds."
Jenifer Langosch is a reporter for MLB.com. Read her blog, By Gosh, It's Langosch, and follow her on Twitter @LangoschMLB. This story was not subject to the approval of Major League Baseball or its clubs.