Papelbon grinding through rocky stretch
Papelbon grinding through rocky stretch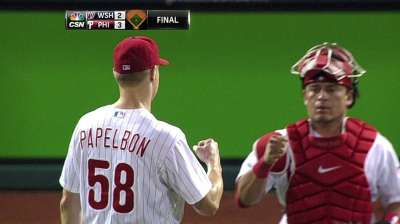 PHILADELPHIA -- Jonathan Papelbon has caused some stressful moments for Phillies fans the past few weeks.
The closer is 2-0 with a 4.09 ERA and four blown saves in 10 opportunities since June 14.
"I see, sometimes, his stuff in the stretch has been down a little bit, as far as his fastball at times," Phillies manager Charlie Manuel said. "Last night, I felt like his fastball was pretty good. The last two, three times out, he's been getting more on top of it.
"Let me tell you something, Papelbon, you go through some times when you're going to give up some runs and things like that. People are quick to see that, but at the same time that's all part of it. That's all part of the run. …. Papelbon, to me, he's one of the premier closers in our league, if not the best."
Todd Zolecki is a reporter for MLB.com. This story was not subject to the approval of Major League Baseball or its clubs.