Leyland can relax a little before All-Star break
Leyland can relax a little before All-Star break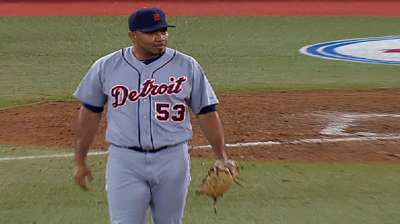 DETROIT -- Manager Jim Leyland can breathe a sigh of relief this week. Not only are the Tigers back at home after an 11-game road trip, but he also doesn't have to worry about selecting an American League All-Star roster.
"I was really relieved and really happy with it," Leyland said. "Proud of the fact that we did a lot of work, and understanding of the fact that guys like [the Athletics' Josh] Donaldson and [the Rays' Evan] Longoria and them aren't All-Stars this year, but I didn't have anything to do with that."
Leyland talked to every other manager in the American League personally, and spent time with his coaching staff on computers to check out numbers.
"I think we did a real thorough job on it," Leyland said, "and I'm very happy with it."
The starting lineup will be unveiled on Monday, although Leyland says his lineup has been planned out. He also won't have much input on injury replacements. If a pitcher is injured this week, Leyland will get his choice on a replacement. However, if a position player is injured, he is replaced by the player who finished with the highest amount of votes on the players' ballot.
The 84th All-Star Game will be televised nationally by FOX Sports, in Canada by Rogers Sportsnet and RDS, and worldwide by partners in more than 200 countries via MLB International's independent feed. ESPN Radio and ESPN Radio Deportes will provide national radio coverage of the All-Star Game. MLB Network and SiriusXM also will also provide comprehensive All-Star Week coverage. For more information, please visit allstargame.com.
Bobby Nightengale is an associate reporter for MLB.com. This story was not subject to the approval of Major League Baseball or its clubs.