Despite infield's effort, O's can't conjure late magic
Despite infield's effort, O's can't conjure late magic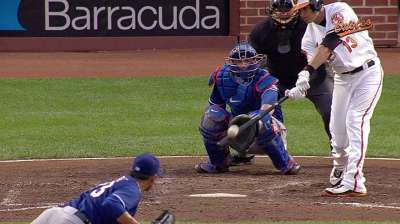 BALTIMORE -- The Orioles' July tailspin continued Tuesday with an 8-4 loss to the Texas Rangers at Camden Yards.
After closing June on a high note with a home sweep of the Yankees, the Orioles have now lost six of eight games since the calendar flipped to July. They primarily relied on their bats to carry them to 11 games over .500 at the end of June, when they stood alone in second place in the American League East.
Now they're in third place and appear to be fading. In the past week, the team hasn't pitched that well and the offense hasn't met its own high standards.
The O's stranded five runners on Tuesday and couldn't avoid the big inning in the field once again. Zach Britton surrendered four runs in the fifth, including Adrian Beltre's second of two home runs. Kevin Gausman relieved Britton to start the sixth and gave up two runs in 1 2/3 innings.
Britton and Gausman were optioned to Triple-A Norfolk after the game. The roster moves make room for Wednesday's starter, Wei-Yin Chen, and will also likely allow the club to add a fresh arm to the bullpen.
Early in the season, the offense seemed to find ways to make up for poor starting pitching performances, whether it was scoring plenty of runs early in games or rallying to come from behind late.
Lately, that hasn't been the case. And Tuesday's loss was no exception.
"Our guys always hold themselves to a high standard, regardless of how tough an outing our starting pitcher had that night," manager Buck Showalter said. "We've had some good outings, too. It's just we've been really inconsistent with it. It's something we're going to have to get better at."
What's more troubling for the Orioles, though, is the offense that bolstered a strong first half of the season is seemingly drying up. The unit is averaging 3.1 runs in eight July games and has struggled to drive in runners in big spots. Through the first two games this series, the Orioles are batting just 3-for-19 (.158) with runners in scoring position.
"Things aren't falling for us. We're not getting key hits when we need to," said Manny Machado, who hit his seventh homer in the third inning. "Other than that we're hitting the ball pretty well, just not in key situations, and that's just part of the game."
Machado was part of an unorthodox seventh-inning double play, which may have smothered a potential rally. After Nick Markakis walked, Machado was at the plate with a full count. He struck out, and with Markakis running on the pitch, Machado interfered with the throw down to second base. Markakis was called out on the play, erasing the leadoff runner.
Showalter pointed out that the team still scored nine runs in two games against the Rangers, and the pitching was more to blame for the loss.
"Just command," Showalter said on Britton's struggles. "He's missing by quite a bit, especially against Beltre. You know he's a good hitter, and then when you make bad pitches on top of them, he's not going to miss them."
Beltre gave Texas an early lead when he blasted Britton's first pitch of the second inning to center field for his 19th homer of the year.
The Rangers really came through in the fifth, tagging Britton for four runs to take a 5-2 lead. Ian Kinsler singled and Britton walked Jurickson Profar, setting up Beltre's three-run blast. It was his 20th home run of the season and gave him his 25th multihomer game in his career.
Britton said he second-guessed himself for the second homer to Beltre. He said he tried to go up and in, but in hindsight wished he had thrown a sinker, which is more his style.
"Beltre beat me. I did him some favors by putting some guys on ahead of him," Britton said. "Just didn't make the quality pitch. Left some balls out over the plate, he's not missing too many mistakes and didn't miss any today. Can't let a guy like that beat you, and I did by putting some guys on ahead of him."
After Beltre's first homer, the Orioles came right back in the bottom of the second and tied it. Matt Wieters and Nate McLouth singled with two outs, and Brian Roberts plated Wieters with a single to right.
Then Machado's homer broke the deadlock in the third, albeit briefly. The Rangers came back with their big fifth inning, knocking Britton from the game.
The Orioles took advantage of a couple Rangers errors in the fifth. Beltre couldn't handle a grounder, which allowed Nolan Reimold to reach base safely. Right after Beltre's error, first baseman Robinson Chirinos let a ball scoot through his legs and the Orioles had first and third with no outs. Machado popped out and Adam Jones struck out, but Rangers left-hander Martin Perez hit Chris Davis to load the bases for J.J. Hardy.
Hardy came through with a single to left, which plated two runs and trimmed the Orioles deficit to 5-4. Wieters flew out to center to end the inning.
"Whenever they make errors, it's huge for us to come back and do something with them," Machado said. "Unfortunately we didn't [do more], we got out that inning. It's tough, we've been struggling with the bat lately and it's just part of the stretch."
Batting averages with runners in scoring position tend to fluctuate throughout a season, but Showalter said before the game that his team isn't complacent and waiting for a bad stretch to end. He wants them to do something about it.
Even though it's not much consolation for the 29,160 fans in attendance Tuesday, Rangers manager Ron Washington suggested there's something to be said for getting so many runners on base in a series.
"They have a great lineup. They had runners all over the bags tonight, but fortunately for us we made some pitches and held the damage down," Washington said. "They're going to score some runs, but we held the damage down tonight."
Derek Wetmore is an associate reporter for MLB.com.. This story was not subject to the approval of Major League Baseball or its clubs.