Two key blasts from Beltre vault Rangers past O's
Two key blasts from Beltre vault Rangers past O's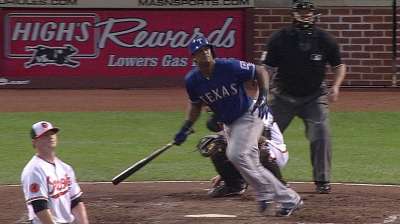 BALTIMORE -- Rangers pitcher Martin Perez is 3-0 with a 1.44 ERA in four starts since being recalled from Triple-A Round Rock. Catcher A.J. Pierzynski explained why.
"He's a different guy," Pierzynski said. "He's figured some stuff out. He's calmed down, he's relaxed and focused on each pitch instead of other stuff. He does a better job of that and keeping his emotions in check."
Perez was able to do that on a humid Tuesday night in Baltimore, especially in a critical fifth inning and the Rangers were able to hold on to an 8-4 victory over the Orioles at Camden Yards. Perez's ability to navigate through the fifth allowed the Rangers to win for the fifth time in six games.
Adrian Beltre led the Texas offense by going 4-for-4 with two home runs and five RBIs. He is the first Rangers player to drive in five runs this season, and he now has an 11-game hitting streak. During the streak, Beltre is 21-for-43 (.488) with six home runs and 11 RBIs.
"I'm seeing the ball good, swinging at good pitches and driving the ball well," Beltre said. "We're all contributing one way or another. Some guys get hot and they pick up the others. We're good as a group, it's not just one guy, and everybody is contributing. The last few days, I've contributed more than I have been."
Beltre had a home run to lead off the second and a three-run home run in the fifth off of Orioles starter Zach Britton to give the Rangers a 5-2 lead. But Beltre also had one of two errors that got Perez in trouble in the pivotal fifth inning.
Beltre misplayed Nolan Reimold's grounder leading off the inning, and then Nick Markakis smacked a ground ball that went right through first baseman Robinson Chirinos' legs. Reimold went to third on the play, giving the Orioles runners at the corners with nobody out. They also had the meat of their order coming up in Manny Machado, Adam Jones, Chris Davis, J.J. Hardy and Matt Wieters. The first four are going to the All-Star Game, and Wieters went the last two years.
"I just put it in my mind that I have to concentrate and finish the inning," Perez said.
Perez retired Machado on a popup and then struck out Jones with a 2-2 changeup in the dirt. His next pitch hit Davis in the arm. Perez then got ahead with two strikes to Hardy, but he couldn't put him away. Hardy lined a 1-2 fastball to left and two runs scored, making it 5-4.
But Perez came back and got Wieters on a flyout to center and was able to walk off the mound with his team still leading.
"That was a huge part of the game," Rangers manager Ron Washington said. "They could have gotten back in it, tied the game or taken the lead. Then you never know what might happen. Sometimes things happen in a game that a guy has no control over. He didn't lose his poise. He could have easily lost his poise and that inning could have gotten worse."
It didn't. Hardy's single was also the Orioles last hit of the night.
"J.J. had a big hit to get us back within a run," Orioles manager Buck Showalter said. "That's usually a real momentum maker. We just didn't seem to take advantage of it and it's probably got something to do with their pitching.
"You can see why they're so high on Perez. He's got a really good arm, good changeup. They have a good pitching staff. Everybody talks about what a good club they have. Obviously, they do. But the difference is the people they continually put on the bump out there."
The Rangers were able to get those two runs back in the seventh. Jurickson Profar had an RBI double and scored on a single by Pierzynski. Beltre added an RBI single in the ninth.
"We did a good job of grinding out at-bats and putting the pressure on them," Washington said. "A lot of guys in the lineup got some big hits and made it easy on us."
The Rangers were 5-for-10 with runners in scoring position, while the Orioles were just 2-for-7. That made up for the fact that the Rangers committed three errors and the Orioles made none. Since the start of the 2007 season, the Rangers are just 3-12 when they commit three or more errors and the opposition doesn't make any.
T.R. Sullivan is a reporter for MLB.com. Read his blog, Postcards from Elysian Fields, and follow him on Twitter @Sullivan_Ranger. This story was not subject to the approval of Major League Baseball or its clubs.