Gibson solid in first road start, but Twins fall to Rays
Gibson solid in first road start, but Twins fall to Rays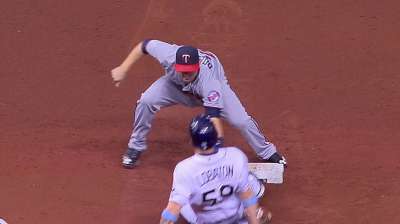 ST. PETERSBURG -- For all the things that went right in his third Major League start on Tuesday night, Kyle Gibson couldn't help but feel a little frustrated.
He threw six innings against the Rays, and five of them were scoreless. He felt like he had good stuff, a moving sinker and an effective changeup -- and, mostly, it showed. Take away the fourth inning, and the 25-year-old right-hander faced only one batter over the minimum.
But all that was undone by three walks and a pair of two-out, two-run hits in the fourth inning of the Twins' 4-1 loss to the Rays, their ninth defeat in their last 10 games. Minnesota has dropped 10 of its last 12 and 12 of 15 since June 24.
And Gibson, in his first career road start, was left with somewhat mixed feelings.
"There's a lot to build off," he said. "But it stings a little bit. Having good stuff and not giving the team a chance to win two times in a row is pretty frustrating."
Gibson didn't get much support from the Twins' lineup, which had a frustrating night as well. Manager Ron Gardenhire pointed out that the Twins hit the ball hard, particularly early on against Rays starter Chris Archer, but they didn't have much to show for it. They only had three hits entering the ninth inning and finished with five.
"You're not going to score too many runs like that," Gardenhire said.
Gibson cruised through his first three innings on 36 pitches. Then came the 33-pitch fourth, in which he walked the bases loaded, and then gave up the big hits to Matt Joyce and Kelly Johnson. Nine men came to the plate in the inning.
Leadoff man Desmond Jennings drew a five-pitch walk, then Gibson, admittedly too worried about the speedy Jennings at first base, threw four straight balls to Luke Scott. He got Ben Zobrist to fly out for the first out and struck out cleanup man Evan Longoria, although Jennings and Scott advanced on a wild slider. That left him with two outs and runners on second and third, and he worked a quick 0-2 count against first baseman James Loney.
Gibson said he focused too much on avoiding a big hit and got too fine, eventually walking Loney to load the bases. Joyce then swung at the first pitch he saw and roped it to center field for a two-run single. Johnson followed by driving a 2-0 fastball to left-center, giving the Rays a 4-0 lead.
"He's going to be very good. He is very good," Rays manager Joe Maddon said of Gibson. "We worked some good at-bats. We took advantage of our walks and eventually scored our runs."
Gibson didn't let the rough inning affect the rest of his outing, as he pitched two more strong innings, allowing only one more baserunner. He left after throwing 102 pitches, having given up four runs on four hits and four walks with three strikeouts.
"Honestly, I just went out there and started attacking with all three pitches and just tried to make everything look the same, and throw it over the plate," Gibson said. "I guess maybe just a little frustration or whatever it was in the big inning in the fourth, just kind of got tired of it and went back out there and attacked."
"That was important after giving up the runs like that," Gardenhire added about Gibson finishing his outing. "He came back out and made some pitches when he had to the next two innings, which was a good thing. He needed that, and we wanted to see that."
But the Twins couldn't put together any sustained offensive attack against Archer or Tampa Bay's bullpen. Archer threw six innings on 84 pitches and allowed only one unearned run on three hits, retiring 13 of the final 14 batters he faced.
Minnesota's only run came in the sixth, when Brian Dozier was hit by a pitch, went from first to third on Archer's errant pickoff throw and scored on Ryan Doumit's sacrifice fly.
"They hit some balls pretty well," Archer said. "I mean, really it was my defense that was helping me be efficient, because they were running down balls and turning double plays."
Tampa Bay's bullpen struck out five over the final three innings. The Twins did put up a fight in the ninth against Rays closer Fernando Rodney, with Joe Mauer and Doumit reaching on singles, but Rodney bounced back by striking out Justin Morneau, Trevor Plouffe and Oswaldo Arcia in order to secure the victory.
"We've got to play better as a team in all facets," Plouffe said. "We hit some balls on the screws and didn't have anything to show for it, but we still need to pick our game up a little bit. We need to turn things around and win these next two here."
Adam Berry is a reporter for MLB.com. Follow him on Twitter at @adamdberry. This story was not subject to the approval of Major League Baseball or its clubs.