Thielbar to go on bereavement list; Tonkin to come up
Thielbar to go on bereavement list; Tonkin to come up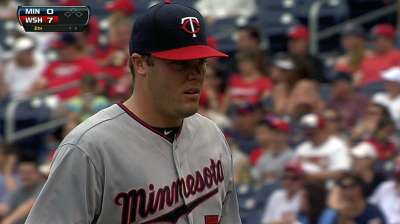 ST. PETERSBURG -- With Caleb Thielbar heading back to Minnesota for the funeral services of his grandmother, the Twins are set to place the lefty reliever on the bereavement list on Thursday and call up right-handed reliever Michael Tonkin.
Thielbar had been waiting for his family to finalize the plans before arranging a trip back to the Twin Cities to be with them. In the meantime, Thielbar said, pitching has been "a good escape for me."
"Tough situation for Caleb and his family. All of our thoughts and prayers are with him," Twins manager Ron Gardenhire said. "Caleb's fine. He's doing it exactly the way he wanted it to be done."
Thielbar was available in Tuesday's 4-1 loss to the Rays but did not pitch and he'll also be available on Wednesday. He's set to fly north on Thursday, and he'll rejoin the team on Saturday but can't be activated until Sunday because he must spend at least three days on the bereavement list.
It's not necessarily a guarantee at this point that Tonkin's first trip to the Majors will last only three days. The Twins will have to make a corresponding move before Sunday's game to activate Thielbar, but assistant general manager Rob Antony made it clear Minnesota could keep the organization's No. 20 prospect with the big league club.
"It gives us a chance to see him up here, to get his feet wet. If he performs, maybe he stays," Antony said. "We explained to him that this is an emergency recall situation with the bereavement. But if you go up there and throw the ball well, we'll see what happens."
Tonkin, 23, got word of his impending promotion Tuesday afternoon after pitching a scoreless inning in Triple-A Rochester's 8-7 loss to Scranton/Wilkes-Barre. The 6-foot-7 right-hander has posted a 1.89 ERA, 45 strikeouts and only 11 walks over 39 innings in 35 games this season with Double-A New Britain and Rochester.
Gardenhire recalled on Tuesday the first time he saw Tonkin, during a workout at the Metrodome. Gardenhire remembered a "big, tall, skinny kid winging it," despite an obvious lack of mechanical polish, and he echoed the club's scouts' belief that the Twins should sign him. After six seasons in the Minors, that move appears to be paying off.
"This kid has got some kind of arm, and we're starting to see the benefits of it right now. He's moving up," Gardenhire said. "In Spring Training, we liked it. He throws really hard with a powerful sinker. He throws elbows and arms all over the place, so [we're] excited for him.
"It took a little while for him to master the strike zone and get some mechanics, where he could get the ball where he wanted to. We saw it in Spring Training. We liked it. Good, hard sinker. I think he started the season pretty slow, not going great. But as of late he's started winging it pretty good. Good for him, and now it's time for him to get an opportunity."
Adam Berry is a reporter for MLB.com. Follow him on Twitter at @adamdberry. This story was not subject to the approval of Major League Baseball or its clubs.