Archer's skilled marksmanship keeps Rays hot
Archer's skilled marksmanship keeps Rays hot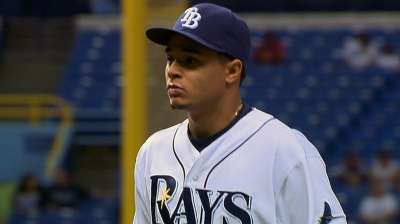 ST. PETERSBURG -- Games like Tuesday night's happen when you're on a roll.
And make no mistake about it, the Rays are riding a major one, which continued in a 4-1 win over the Twins at Tropicana Field.
Tampa Bay has now won six straight and 10 of its last 11 to move to 51-40 on the season. In the process, the Rays kept their mastery over the Twins by winning their seventh consecutive game against Minnesota.
Everything seems to go right when a team is on a hot streak. Tuesday night, the Rays got another solid outing from a starting pitcher, they unleashed another type of their evolving offensive swarms and they sat "The Kid," Wil Myers -- and even that turned out to be a good thing.
First, the starter, Chris Archer. The 24-year-old made his eighth start of the season one of his better ones by holding the Twins to one unearned run on three hits in six innings for his third win of the season. He did not issue a walk for the first time in his Major League career.
"You can have the best stuff in the league and be [in a] 2-0 [count] and throw a great slider and they're not going to swing, or throw a good changeup and they're not going to swing, or throw a fastball that is borderline and it's going to get called a ball," Archer said. "So yeah, it felt good to have good stuff and to be able to harness it."
Archer's effort was assisted by the four-spot from the Rays' swarm in the fourth.
The calm before the "swarm," which Rays manager Joe Maddon has been calling the Rays offense, saw Desmond Jennings and Luke Scott start the inning by drawing walks off Twins starter Kyle Gibson. Two outs later, James Loney walked to load the bases for Matt Joyce, who drove home two on a single to center, giving Joyce his first RBIs since June 15.
Kelly Johnson then stepped to the plate.
Myers did not start on Tuesday because Maddon wanted to give "The Kid" a night off. Johnson took his place in the lineup and finished up the fourth-inning swarm with a two-run double to center.
"You can't question the matrix," said Johnson, talking about the Rays' brain trust's decision to use him Tuesday night. "We're all ready to play. You never know when your name is going to be called. It makes it fun, so obviously when things are rolling, things are going good, [and] I'm glad to contribute."
The only run the Twins could muster off Archer came in the sixth, and it came without a hit. Archer hit Brian Dozier to lead off the inning. One out later, the right-hander threw wide of first on a pickoff attempt, allowing Dozier to reach third. The miscue ended a streak of nine errorless games by the Rays' defense.
Ryan Doumit flew out to center to score Dozier and cut the lead to 4-1.
Given Archer's mastery, why did Maddon yank him after 84 pitches? The answer was simple: he could.
"When you have a rested bullpen, you have [Alex] Torres, Jake [McGee] and Fernando [Rodney] all being in good shape, I felt pretty comfortable," Maddon said.
Even Archer bought into the move.
"I understand how Joe does things," Archer said. "My job is to keep the team in the game and then turn it over to the bullpen."
Tampa Bay's bullpen has been that good lately.
And it was again on Tuesday, as the trio of Torres, McGee and Rodney pitched the final three innings and struck out five. Rodney, who struck out the side after allowing two straight singles to start the inning, picked up his 21st save.
Tampa Bay has now won each of Archer's last four starts, and he has gone 2-0 with a 2.35 ERA in that span. He has pitched 22 innings in those four starts as opposed to 19 2/3 innings in his first four.
"Their kid settled in there pretty decent and did what he had to do, then he got to the bullpen," Twins manager Ron Gardenhire said. "They threw some really good arms at us there. We all know Rodney at the end, he's going to misfire a little bit but he's got filthy stuff. We got him in a situation, but he made pitches when he had to."
Tampa Bay began the season 14-18 through May 7. Since then, the club is 37-22 and feeling good.
"We're starting to build a lot of confidence in each other," Joyce said. "Right now, any big moment that comes up in the game, we have a lot of confidence in any guy that's in that position, one through nine. I think that's how good teams win. I think that's how they become really great teams and that's how they get on rolls like we're on right now."
Bill Chastain is a reporter for MLB.com. This story was not subject to the approval of Major League Baseball or its clubs.