Late surge gives White Sox rare win in Detroit
Late surge gives White Sox rare win in Detroit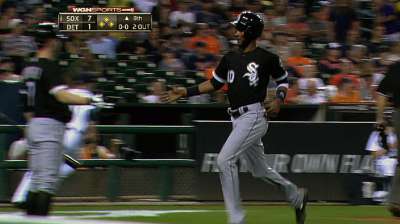 DETROIT -- For those keeping track at home, the White Sox have a 34-52 record against 29 Major League Baseball teams during the 2013 season and stand 1-0 when facing the American League Central-leading Tigers.
It took until Tuesday night for the two division rivals to meet for the first time this season, and the struggling White Sox looked ready for the challenge. They not only beat the Tigers by an 11-4 final before 37,113 at Comerica Park, but they punished Detroit over the final two innings.
Alex Rios matched both the White Sox franchise record and the AL record for hits in a nine-inning game by finishing 6-for-6, with a triple and five singles. Lance Johnson stood as the last White Sox player with a six-hit effort, coming on Sept. 23, 1995, in Minnesota, and Rios' effort marked the fifth time it has been accomplished by a White Sox player.
Rios also became the first player ever to knock out four hits in a game against Justin Verlander (9-6). And on the topic of the Tigers right-hander, the White Sox finished with a season high in runs and hits (23) in a game started by an All-Star who had a 12-1 record against them since the start of the 2009 season.
Most importantly, the White Sox ended a four-game losing streak, during which they scored six runs. They totaled seven in the eighth inning Tuesday night.
"It's been the most fun we've had in a quite a while," Rios said. "We've had some tough times, but it shows we haven't quit."
"A good feeling to get a win, those have been few and far between," White Sox first baseman Adam Dunn said. "Just the way we did it, and to get good pitching because we had opportunities early, but Verlander shut it down."
The White Sox put at least one runner on base in each of the first seven innings, but finally made Verlander pay in the eighth. His night ended with four straight hits to start the frame, including a Dunn laser to right on a 3-2 pitch following Rios' single to left and second stolen base of the night.
Dunn finished the evening with three hits and three RBIs, bringing his season average to .209, his home-run total to 24 and his RBI total to 60.
"He did what he does," said Verlander, who finished with just three strikeouts and 12 hits allowed over seven-plus innings. "He's a guy who strikes out a lot, but when he puts the ball in play, a lot of the time he does a lot of damage with it, and that one hurt."
"Our guys had some really good at-bats," Dunn said. "Not just getting hits, but really good at-bats also."
Dayan Viciedo posted the first two-homer game of his career and gave the White Sox an insurmountable five-run lead when he drove out Al Alburquerque's second pitch in the eighth for a three-run homer to right. The White Sox finished with nine hits in the seven-run frame, helping to end a seven-game losing streak at Comerica and picking up their first win there since May 5, 2012.
While Verlander entered with the Cy Young and Most Valuable Player pedigree, it was Jose Quintana (4-2) who emerged as the more dominant pitcher on this night in his 40th career start. Quintana allowed a Matt Tuiasosopo homer in the fifth and the requisite two-run shot in the eighth to the game's best hitter, Miguel Cabrera, but otherwise gave the Tigers (49-40) pretty much nothing over eight innings and 105 pitches.
This strong performance, featuring seven strikeouts and one walk, helped Quintana end a string of seven straight no-decisions. Over his last two starts against Detroit and Baltimore, two playoff contenders, Quintana has yielded three runs in 15 innings.
"I'm really, really happy I was able to give this opportunity to my team," said Quintana through translator and White Sox coach Lino Diaz. "More importantly than anything, when you're facing the No. 1 team in the division, it's something to feel really good about."
"Q was outstanding, starting out against that lineup," White Sox manager Robin Ventura said. "Pitching the way he did, it gave us an opportunity similar to what happened to us in the eighth last night. You end up having one of those innings. We haven't had one of those all year."
Tuesday's victory cut the Tigers' lead to 13 games over the White Sox, which has the same sort of ripple effect as throwing a tiny pebble into Lake Michigan. But this game wasn't about division standings or what might have been for the underachieving South Siders.
On this particular warm Midwest evening, delayed at the start for 38 minutes by rain, it was about everything going right for the White Sox, punctuated by Rios' record-setting effort.
"You know you're not going to win the game when you've got one guy on the opposing team who has got six hits," said Tigers manager Jim Leyland. "I got six in August one year."
"We go out there and grind and do what we have to do to win games," Rios said. "Sometimes it happens and sometimes it doesn't. But we still believe."
Scott Merkin is a reporter for MLB.com. Read his blog, Merk's Works, and follow him on Twitter @scottmerkin. This story was not subject to the approval of Major League Baseball or its clubs.