Verlander, Tigers run into trouble in eighth inning
Verlander, Tigers run into trouble in eighth inning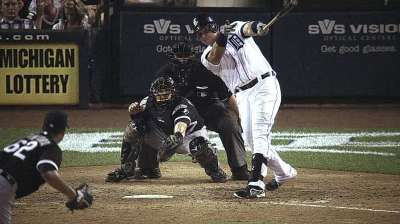 DETROIT -- While Justin Verlander didn't have his best stuff, he was able to limit the White Sox to one run until the eighth inning. In that fateful frame, it didn't matter if it was a former Most Valuable Player or anyone else pitching out of the bullpen, the White Sox offense exploded for 10 runs on 15 hits in the final two innings of an 11-4 win against the Tigers at Comerica Park on Tuesday night.
The White Sox used five consecutive hits, powered by two home runs, to spark a seven-run eighth inning that broke a 1-1 tie.
"They had a great game, just came out and beat us up, period," manager Jim Leyland said. "There's not much to say about this one."
After finding his rhythm in his past two starts, Verlander gave up five earned runs on 12 hits in seven-plus innings. Seven of the 12 hits came with two outs, although he was able to limit the damage until the eighth.
"Just wasn't crisp, one of those days that happens at this level at this time of the year," Verlander said. "Felt good, but I wasn't able to execute there in the eighth."
Alex Rios singled to lead off the eighth, on his way to going 6-for-6 and tying an American League record for hits in a nine-inning game. Next up was Adam Dunn, whom Verlander struck out on a 96-mph fastball in the fifth inning, causing Dunn to throw his bat down in disgust. Dunn, however, threw down his bat for a different reason in the eighth.
"It was a 3-2 pitch, down and in where a lefty likes it," Verlander said. "Not trying to throw it right there. He did what he does. He's a guy who strikes out a lot, but when he puts the ball in play, a lot of the time he does a lot of damage with it, and that one hurt."
Dunn blasted the ball to the right-field seats for a two-run home run to give the White Sox a 3-1 lead. Verlander exited after giving up two more singles, and Dayan Viciedo hit a three-run homer off Al Alburquerque to extend Chicago's lead to 6-1.
"It is fun. It's been the most fun we've had in a quite a while," Rios said. "We've had some tough times, but it shows we haven't quit. We go out there and grind and do what we have to do to win games. Sometimes it happens and sometimes it doesn't. But we still believe."
The South Siders snapped a seven-game losing streak at Comerica Park, dating back to May 2012.
Said White Sox manager Robin Ventura: "We had opportunities. Even earlier in the game we have a couple guys on and he would get out of it. That's kind of the way it's gone for us. It was a big home run by Adam to stay with it. Tank hit a couple to tie it and put us ahead and stretch it out. It was a good night offensively. It was a big relief for all these guys."
Meanwhile, White Sox starter Jose Quintana stifled the Tigers for most of the night, allowing three runs on six hits in eight innings.
Matt Tuiasosopo gave the Tigers a 1-0 lead with a home run in the fifth inning. Tuiasosopo now has five homers this year in 39 games with the Tigers, matching his career total in 71 games before this season.
"I was battling, he made some good pitches on me in my first at-bat, and he got me looking," Tuiasosopo said. "I didn't want to do that again in my second at-bat, so I just got a cutter up and in, and just tried to put a good swing on it and it went out."
In the bottom half of the eighth inning, Miguel Cabrera hit his 29th home run, the most by a Tigers player before the All-Star Game since the game was created in 1933. It also was the 350th of his career.
Otherwise it was a night to forget for the Tigers. Chicago's 23 hits were the most allowed by the Tigers since Sept. 9, 2004.
"To sum it up, I thought Justin battled, didn't have his real good stuff," Leyland said. "The bullpen came in and didn't really shut it down at all. We were a little sluggish offensively. The last factor was Quintana was really good."
Bobby Nightengale is an associate reporter for MLB.com. This story was not subject to the approval of Major League Baseball or its clubs.