Wheeler hoping to haunt Giants with good start
Wheeler hoping to haunt Giants with good start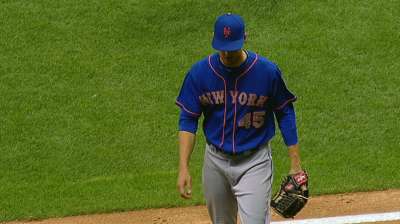 SAN FRANCISCO -- Pitching at AT&T Park was Zack Wheeler's destiny since the Giants selected him in the first round (sixth overall) of the 2009 First-Year Player Draft.
At the time, of course, the Giants believed that Wheeler would perform for them, not against them.
Wheeler, who joined the New York Mets' starting rotation last month, will oppose the Giants in Wednesday's series finale. The twist in Wheeler's career occurred at the Trade Deadline in 2011, when the Giants sent the right-hander to the Mets for right fielder Carlos Beltran. Needing a productive hitter to further its bid to return to the postseason, San Francisco was willing to part with Wheeler, the organization's top pitching prospect.
"You try to make deals happen so you can win," Wheeler said Monday. "No hard feelings or anything; it's going to happen. It's probably going to happen again sometime."
Though Wheeler, 23, harbors no animosity toward the Giants, he'd still like to haunt them with what-if thoughts.
"I definitely want to go out there and do well for myself and maybe show them what they could have had, I guess," said Wheeler, who's 2-1 with a 4.29 ERA in four starts. "That would be fun."
Wheeler sensed that the deal would hasten his career advancement.
"At the time, it was a better opportunity for me," he said. "The Mets' pitching wasn't really deep. The Giants had guys who were young and doing very well. I had a chance to be a front-of-the-rotation starter over here a little bit faster than I could have [with the Giants]."
Chris Haft is a reporter for MLB.com. This story was not subject to the approval of Major League Baseball or its clubs.