Platoon over, Weeks again strugglng at plate
Platoon over, Weeks again strugglng at plate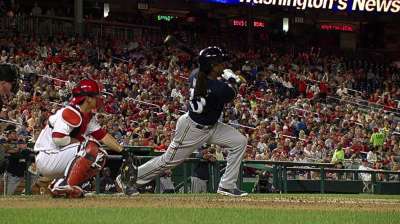 MILWAUKEE -- It has been an interesting hitting trend for Rickie Weeks this season. Weeks' early-season slump turned when Scooter Gennett was called up from Triple-A Nashville in early June, but his struggles resurfaced immediately after Gennett's return to Nashville on June 26.
In 14 games and 11 starts while platooning with Gennett at second base, Weeks had a slash line of .452/.511/.929, with five home runs and nine RBIs.
Since Gennett's departure from the big leagues, Weeks has a slash line of .162/.295/.243, with one home run and one RBI in 11 games entering Monday's game against the Reds. Weeks singled and doubled in his first two at-bats, finishing 2-for-3 with a walk in Monday's 4-3 victory over the Reds.
Brewers manager Ron Roenicke said Monday that Scooter's presence did not light a fire under Weeks.
"It isn't Scooter pressing him," Roenicke said. "He started to swing the bat better when Scooter came up. Sometimes when you have another guy that's spelling you once in a while, physically you just feel so much better that you play better."
Weeks is hitting .225 with nine home runs and 20 RBIs this season. He is on pace to produce lesser numbers than his down year in 2012, a far cry from what he posted the previous two seasons. He was an All-Star selection in 2011.
"Some of it is probably -- as much as we think he can go out there every day -- some of it may be he was getting some days off every once in a while [while platooning with Gennett]," Roenicke said. "It's hard and it's grinding to go out there every day and play."
Adam McCalvy is a reporter for MLB.com. Read his blog, Brew Beat, and follow him on Twitter at @AdamMcCalvy. Kevin Massoth is an associate reporter for MLB.com. This story was not subject to the approval of Major League Baseball or its clubs.