Lannan blanks Nationals for eight innings in big win
Lannan blanks Nationals for eight innings in big win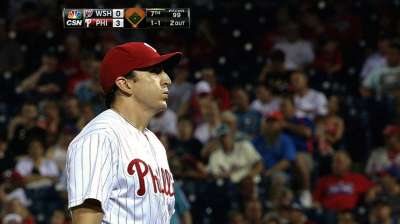 PHILADELPHIA -- Charlie Manuel never had the opportunity to face a former team in his six-year Major League career, but if he had that shot, he is certain he would have felt a little extra juice before he stepped into the batter's box.
Competitors are always seeking an edge.
"I think it's kind of natural," the Phillies' manager said following Monday night's 3-2 victory over the Nationals at Citizens Bank Park. "I might be jumping up and down, I don't know."
If Phillies left-hander John Lannan feels any extra motivation facing the Nationals, he has succeeded in squashing those feelings publicly. He pitched for Washington for six seasons, with the final one offering enough kindling to light a large enough fire to inspire any athlete. The Nationals optioned him just before the 2012 season started, he asked for a trade and after the season, they non-tendered him.
He signed a one-year, $2.5 million contract with the Phils in December.
He has faced the Nats twice this season, and he has twice led his team to victory. Lannan allowed four hits, two walks and struck out four in eight scoreless innings in a big victory for a team trying to keep itself together with the All-Star break beginning Sunday evening and the July 31 Trade Deadline looming.
"Best I've seen him pitch," Manuel said.
"He was sharp," said Nationals shortstop Ian Desmond, who grounded into one of Lannan's 12 ground-ball outs. "I didn't think he used his fastball as much as he used to. He was throwing a lot of changeups, a lot of sliders, a couple of cutters. I tip my hat to him."
It was the first time Lannan had pitched eight innings since Aug. 28, 2009, and the first time he had thrown eight or more scoreless innings in a start since a shutout against the Mets on July 21, 2009.
Lannan allowed two runs in five innings against Washington in his first start back from the disabled list June 17. That makes him 1-0 with a 1.20 ERA (two earned runs in 13 innings) against the Nationals this season.
Is there any satisfaction with that?
"The first time back, I guess there was a little bit more," Lannan said. "Just because of my first start back and it was my first time facing the Nationals. I remembered that feeling. This time I just told myself, 'It's just any other start.' I just had to go out there and worry about doing my job. It doesn't matter who you face, really. You just have to go out and pitch. Especially the way things have been going lately."
The Phils have reached a critical point of their season. General manager Ruben Amaro Jr. said Friday the club needs to play well on this 10-game homestand before the break or there could be changes to the 25-man roster. Amaro and Manuel then called a team meeting before Sunday's game because they did not approve of some dugout hijinks during a 13-4 loss Saturday to the Braves.
But the Phillies have won five of their last seven games to improve to 44-46. They took two of three from the first-place Braves over the weekend to open the homestand, and Monday's victory over Washington gives them an opportunity to have a big series against the second-place Nationals, which is sorely needed.
Anything less than a 6-4 homestand and the front office could shift into seller mode.
The Phillies took a 2-0 lead in the first. Ben Revere and Jimmy Rollins hit back-to-back singles then reached second and third on a double steal to set up the inning.
Domonic Brown hit a ball off Nationals right-hander Dan Haren for a one-out infield single, which scored Revere. A wild pitch advanced Brown to second and Haren walked Michael Young to load the bases, then walked Darin Ruf to force home Rollins to make it 2-0.
They took a 3-0 lead in the sixth when Revere scored from second on a two-out single to right by Rollins.
Lannan took care of the rest, with the Phillies surviving a scary ninth from closer Jonathan Papelbon, who allowed two runs.
The Phillies follow Lannan's performance with Cole Hamels on Tuesday and Cliff Lee on Wednesday. Theoretically, this should put them in good position to win the four-game series. But anybody who has watched the Phillies knows it makes little sense to think like that.
The Nationals could say the same thing. They entered the season one of the favorites to win the World Series. But with Monday's loss, they fell to 46-43. Just 2 1/2 games separate the clubs in the standings.
"They are a great team," Lannan said about his former team. "They're still in it. There's more than one way to skin a cat. You can't count them out."
The Phillies hope the same can be said about them.
Todd Zolecki is a reporter for MLB.com. This story was not subject to the approval of Major League Baseball or its clubs.