D-backs not focused on past problems vs. Dodgers
D-backs not focused on past problems vs. Dodgers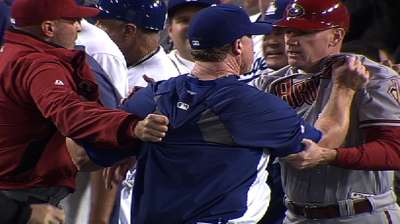 PHOENIX -- Hours before taking the field against the Dodgers for the first time since their heated series in Los Angeles last month, the D-backs acknowledged the importance of the three-game set between the first and second place teams in the division, but they all said they don't anticipate any extracurricular activities taking place.
Back on June 11, three hit batters resulted in two bench-clearing incidents and eight suspensions, three for Arizona.
"There are a lot of people here today, I know it's getting a lot of attention, but I'm not expecting a whole lot other than them coming out hard to play and so are we," said Ian Kennedy, Tuesday's starter who received a 10-game suspension for hitting Zack Greinke with a pitch after warnings were issued.
"I have no bad blood against anybody," said Miguel Montero, who was plunked by Greinke. "I just come out here ready to play and win and do my job. I don't care about any other team."
Montero added that he won't hesitate to call pitches inside during the series this week.
"You have to pitch in," he said. "You're not going to stay away because you're afraid. You have to keep doing your job. If you hit him, you hit him, but you're not trying to."
Echoing his players, D-backs manager Kirk Gibson said he wants to keep his club's sights on the pennant race rather than past grudges.
"We have to beat them, we have to keep the focus on that," Gibson said. "They're very formidable. We have to play good baseball and try to find a way to beat them. If you get distracted by the sideshow, you inhibit yourself from doing that."
Tyler Emerick is an associate reporter for MLB.com. This story was not subject to the approval of Major League Baseball or its clubs.