Claimed off waivers, Ishikawa makes Yanks debut
Claimed off waivers, Ishikawa makes Yanks debut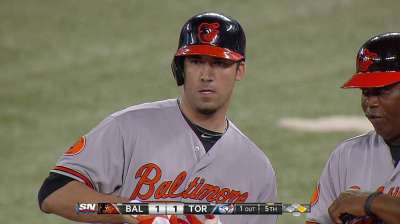 NEW YORK -- Travis Ishikawa was on his way to church near his home in California's Bay Area on Sunday morning when his agent texted him and told him the Yankees had claimed him off waivers.
The 29-year-old first baseman almost didn't believe it at first. But when Yankees general manager Brian Cashman called him a few minutes later and told him to get to New York in time for Monday's game against the Royals, he knew it was true.
And he's been an "anxious wreck" ever since.
"Obviously, it doesn't matter where you grew up, you've heard of the Yankees," Ishikawa said. "Just to be a part of it, I'm excited."
Ishikawa, whom the Orioles designated for assignment on June 29, started at first base and batted sixth for the Yankees on Monday. He batted .118 in 17 at-bats with Baltimore this year, and hit .316 with seven home runs and 31 RBIs in the Minors this season. He's a career .260 hitter over six Major League seasons.
Manager Joe Girardi said the Yankees brought him in to give Lyle Overbay a few days off here and there. Overbay has been the Yankees' only first baseman since Mark Teixeira went on the disabled list with a season-ending wrist injury on June 26.
Third baseman David Adams was optioned to Triple-A Scranton/Wilkes-Barre to make room for Ishikawa.
"It's always hard, because everyone wants to be here," Girardi said. "But the way we saw it is, [Adams] is someone we expect to be a player here for a while, and for him not to play every day didn't make sense to us. We want him to play and be ready to help us when we need it."
Ishikawa was excited last week when he looked at the Orioles' schedule and saw they would be heading to New York to play the Yankees over the weekend. He had never played at Yankee Stadium in his career, and he was excited about seeing it for the first time.
On Monday, he did.
"When [the Orioles] designated me, I was a little disappointed," Ishikawa said. "But I guess I got my wish, so I'm ecstatic right now."
Josh Vitale is an associate reporter for MLB.com. This story was not subject to the approval of Major League Baseball or its clubs.